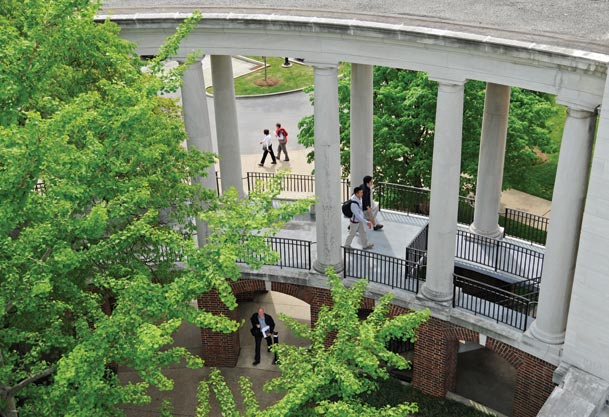 Evans, Boatman present on AP credits, student loans
Angela Boatman, assistant professor of public policy and higher education, will participate in the Center for the Analysis of Postsecondary Readiness, a new $10 million center based at Teachers College, Columbia University, to assess new approaches to remedial education at two-year colleges. The center will operate in collaboration with scholars at Vanderbilt, University of California, Davis, and Stanford. Boatman will study a program in place at schools in Tennessee.
Evans, Boatman present on AP credits
Brent Evans, assistant professor of public policy and higher education, traveled to New York to present research on Advanced Placement credits before the College Board's Advanced Placement Higher Education Advisory Committee. In addition, Evans and colleague Angela Boatman presented their paper, "Applying the Lessons of Behavioral Economics to Improve the Federal Student Loan Programs: Six Policy Recommendations," at the Lumina Ideas Summit in Washington, D.C.
Flores testifies at congressional briefing
Stella Flores, associate professor of public policy and higher education, participated in a congressional briefing over the summer that focused on financial aid policy proposals in Washington that may be detrimental to low-income and minority students. She also traveled to Austria in October to present at the Salzburg Global Seminar.
Fyfe honored by P.E.O. Sisterhood
Emily Fyfe, a Ph.D. student in psychology and human development, was one of 85 doctoral students nationwide selected to receive a $15,000 Scholar Award from the P.E.O. Sisterhood. The awards provide substantial merit-based scholarships for women in the United States and Canada who are pursuing a doctoral-level degree at an accredited college or university.
Service awards announced
Craig Anne Heflinger, professor of human and organizational development and associate dean for graduation education, and Ted Hasselbring, professor of special education, were recognized by Chancellor Nicholas S. Zeppos at the Fall Faculty Assembly for 25 years of service.
Heflinger named to Get Covered TN council
Craig Anne Heflingerhas been appointed to the advisory council for Get Covered Tennessee, which provides enrollment assistance to Tennesseans eligible for new options under the Patient Protection
and Affordable Care Act.
Hemmeter receives McEvoy Award
Mary Louise "M.L." Hemmeter, professor of special education and co-faculty director of the Susan Gray School, has been named recipient of the Mary McEvoy Service to the Field Award of the Division of Early Childhood. The late McEvoy was a Peabody professor.
Humphrey Fellows learn about MNPS academies
Jay Steele, chief academic officer for Metropolitan Nashville Public Schools, met with Peabody's Hubert H. Humphrey Fellows to discuss The Academies of Nashville, a model in use in 12 Nashville Public High Schools. Peabody hosts experimental psychology gathering
Peabody hosts SMEP annual meeting
David Lubinski, professor of psychology, hosted the annual meeting of the Society of Multivariate Experimental Psychology in October in the Peabody Rotunda. Attendees included some of the world's leading contributors to measurement and multivariate procedures in psychology and the social sciences. Kris Preacher, associate professor of psychology at Peabody and SMEP member, was presented with the prestigious Jeffrey S. Tanaka Award for the best paper published in 2013 in Multivariate Behavioral Research. Other Peabody faculty who are members of SMEP: Joseph L. Rodgers, Lois Autrey Betts Professor of Psychology; James H. Steiger, professor of psychology; and Lubinski.
Murphy delivers keynote
Joseph Murphy, Frank Mayborn Professor of Education and associate dean for special projects, was a keynote speaker at the Carnegie Project on the Education Doctorate Conference in Denver.
Tanner-Smith, Polanin conduct training in Ireland
Emily Tanner-Smith, research assistant professor of human and organizational development, and visiting research fellow Joshua Polanin taught a training workshop on systematic reviewing and meta-analysis methods for the Department of Education and Professional Studies at the University of Limerick in Ireland.
Turner delivers lectures in Beijing
William Turner, professor of human and organizational development, delivered the keynote address at the second International Forum on Marriage and Family Therapy in Beijing. The conference was sponsored by Beijing Normal and Peking universities.