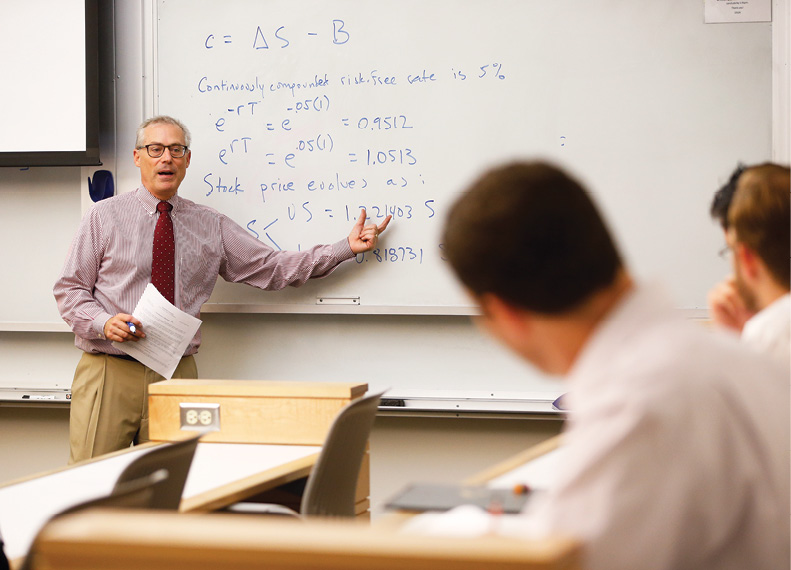 After three years as chief economist at the U.S. Securities and Exchange Commission, Craig M. Lewis returned to his post at the start of the 2014 academic year as the Madison S. Wigginton Professor of Management at Vanderbilt Owen Graduate School of Management.
During his time at the SEC, where he also served as director of the agency's Division of Economic and Risk Analysis, Lewis led efforts to incorporate more rigorous analytical techniques into the SEC's rule-making process. "In many ways, I feel that our work has been vindicated by the fact that there have been relatively few court challenges to the rules we implemented," says Lewis, whose Vanderbilt return has met with excitement.
"Not only has Craig helped enrich and strengthen the rule-making process as part of the implementation of the landmark Dodd–Frank financial reform law, he also brings back a wealth of valuable experience, both to the research arena and to the classroom," says M. Eric Johnson, the Ralph Owen Dean of the Owen School and Bruce D. Henderson Professor of Management.
Robert Whaley, the Valere Blair Potter Professor of Finance and director of the Financial Markets Research Center (FMRC), says Lewis' experience builds upon the longstanding partnerships forged by the school with financial regulators and industry.
"Vanderbilt's FMRC has been dedicated to bringing together the best minds and the most innovative thinking in finance from around the world since its founding more than 25 years ago," says Whaley. "Craig's return to Vanderbilt and his involvement with the FMRC will play an important role in continuing to fulfill our mission."
A frequent speaker and guest lecturer at industry and academic events around the world, Lewis is an expert on corporate financial policy and asset pricing. He first joined Vanderbilt's finance faculty in 1986.
---
Watch Craig Lewis comment about SEC enforcement and investigative methods:

---