By Ann Marie Deer Owens, BA'76
GQ calls it "Nowville." Time magazine has dubbed it "The South's Red-Hot Town."
Indeed, these are heady times for Vanderbilt's hometown, now one of the nation's fastest-growing cities. The signs of ambitious new building projects are everywhere. In October the think tank City Observatory released a report identifying Nashville as second only to Houston in cities attracting an increased percentage of young college graduates.
"[I]t is hard to find a resident who does not break into the goofy grin of the newly popular when the subject of Nashville's status comes up," The New York Times asserted last year.
And yet not everyone has benefited from Nashville's good fortune. "More than half of renter households in the Nashville metro area are considered cost-burdened, meaning they pay more than 30 percent of their income to rent," the Wall Street Journal reported in August.
A 2013 study on homelessness in Nashville conducted by the NashvilleNext Steering Committee reports that, while the city's total population grew by 5.45 percent between 2004 and 2013, the city's total homeless population increased by 27.5 percent. A 2014 Nashville Area Chamber of Commerce report found that one in seven Nashvillians lives below the poverty line—including one of every five children.
For Vanderbilt Divinity School alumni who run Nashville nonprofits, the need to serve the city's underserved remains as great and as varied as ever. Through the years, red-hot or not, the Divinity School community has played a quiet but significant role in encouraging, preparing and nurturing its students to develop and lead several of Nashville's signature nonprofit organizations.
Viki Matson, the school's director of field education and assistant professor of the practice of ministry, says it all begins with the institution's broad definition of ministry.
"We hope students will see that in addition to the worthy vocation of congregational pastor, many other arenas of human life can be a context for ministry," she says. "God and God's people are to be found everywhere—not just in the pews on Sunday morning. This might mean preparing for ministry in a hospital, prison, college campus, treatment center, homeless shelter, or numerous other nonprofit and community organizations."
Students earning a master of divinity (M.Div.) must complete nine hours of field education, which represents two separate internships and counts toward more than 10 percent of the degree requirements. For students earning a master of theological studies (M.T.S.), field education is an option many of the students choose anyway.
---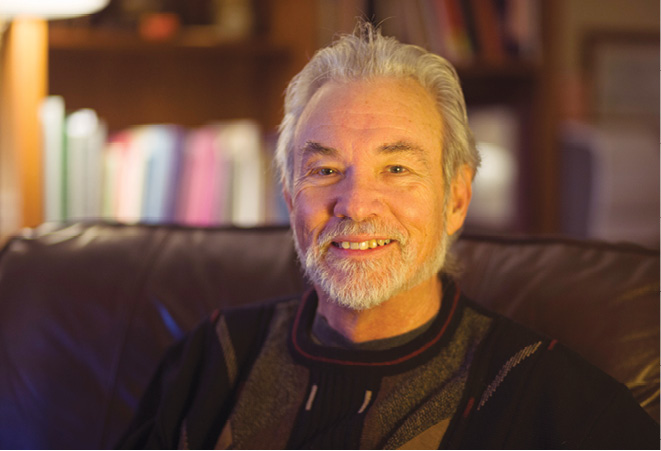 Will Hutchins, BA'69, MDiv'72, was unsure what form of ministry he would pursue when he enrolled at the Divinity School in 1969. Faculty and other students encouraged his interest in counseling inner-city youth and working in mental health. He also spent time researching theological themes in popular culture and was granted a year of independent study.
"It is fair to say that the freedom and flexibility allowed me by Vanderbilt Divinity School to explore these nontraditional avenues led me to discover my interests and gifts in working with both adolescents and adults in the mental health field," Hutchins says. "My academic exploration was augmented by field-education assignments working with youth and volunteering at what was then called the Dede Wallace Center."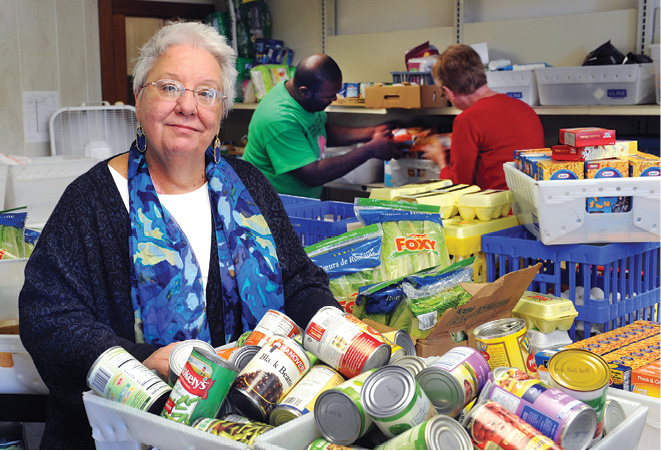 While still a divinity student, Hutchins became the second staff member hired at Rap House, a crisis center with a strong focus on young people. "By the time I graduated from Vanderbilt, Rap House had attained multiple awards for groundbreaking work in youth crisis and drug-abuse counseling." Hutchins was there until 1973 and later joined the Meharry Alcohol and Drug Abuse Program. In 1978 he left Meharry to begin a private practice in psychotherapy.
Other Divinity School students from the 1970s who saw a specific need and started a Nashville nonprofit were the Rev. Rebecca McCulloh, MDiv'79, and Rev. Keith Wilson, MDiv'79. They worked at a local crisis center for their field-education placement, providing free telephone counseling and other support for those experiencing thoughts of suicide.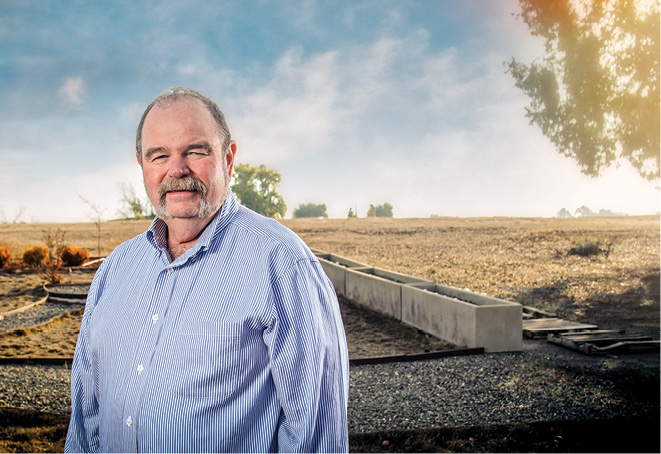 "We could not find any services specifically targeted to victims of sexual trauma, so we formed the Rape and Sexual Abuse Center [now called the Sexual Assault Center]," says Wilson. "We received strong support from the Divinity School community, including then-Dean Sallie McFague and professors Peggy Way and Liston Mills, along with West End United Methodist Church. We worked closely with the Metropolitan Nashville Police Department and increased public awareness of the agency through extensive media interviews, conferences and other educational events." The organization, initially housed within the crisis center, trained volunteers to respond to callers and go to hospitals to assist victims when requested.
McCulloh served as the first executive director of the Rape and Sexual Abuse Center, and both she and Wilson returned in 2003 to mark the 25th anniversary of the organization.
---
More recent graduates Andrew Krinks, MTS'13, and his wife, Lindsey Krinks, MTS'13, found the Divinity School to be fully affirming of their social justice engagement.
The couple met as undergraduates at Lipscomb University. After earning her bachelor's degree in 2007, Lindsey devoted three years to full-time homeless outreach, defined as seeking out the homeless wherever they happen to be, rather than waiting for them to come to a day center or free meal. She took an AmeriCorps position at Park Center, which assists adults diagnosed with severe and persistent mental illness. She worked under Will Connelly, MTS'03, who founded the center's homeless outreach program. Connelly now serves as director of Metropolitan Nashville's Homelessness Commission.
Andrew Krinks graduated from Lipscomb in 2008 and went to work as editor of The Contributor, a fledgling Nashville street newspaper whose sales support homeless individuals. The paper had been founded about a year earlier by Tasha French Lemley. Only a handful of volunteers and approximately 25 vendors were involved when Andrew joined the operation.
"We were selling just a few thousand papers every month," he remembers. "Today, The Contributor is one of the largest-circulating street papers in North America, with about 60,000 papers sold monthly, and the paper is now published weekly."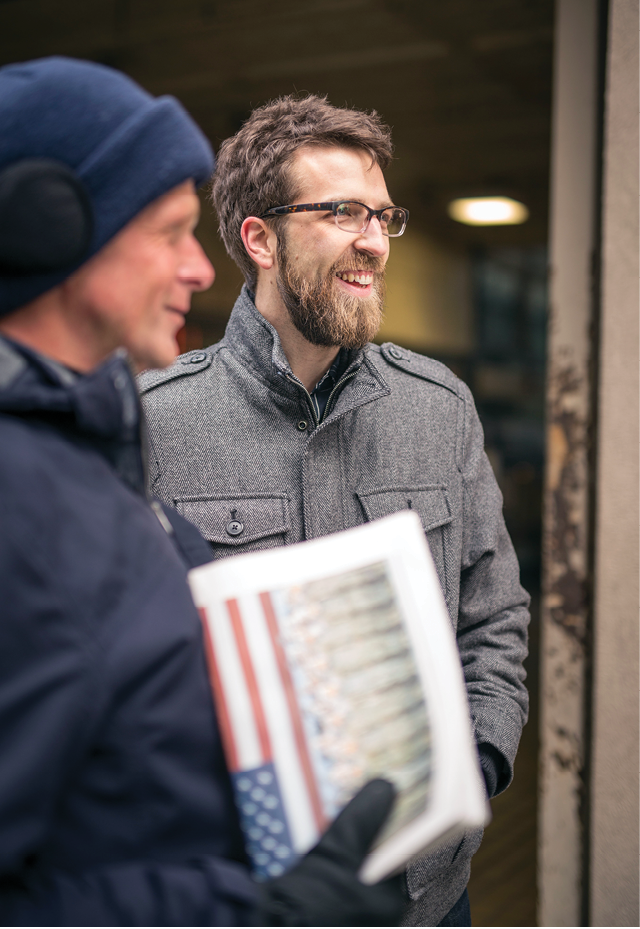 About 400 homeless and formerly homeless vendors now sell the paper. Thirty percent of the vendors who were homeless when they began selling the paper are now off the streets.
Andrew oversaw the major expansion of the street paper while a Vanderbilt graduate student in theological studies. He was working 25 hours a week at the paper and juggling three courses.
"Lindsey and I chose the Divinity School because of its genuine commitment to social justice, fostering an environment where related questions can be explored," he says. "Especially in the seminar classes, teachers were open to my exploring the issues I was engaging with in my work at The Contributor." The couple was deeply appreciative of the school's support for their work, which included much-needed scholarships.
Andrew's field-education placement was at the paper, and he valued the time he spent regularly with his supervisor, the Rev. Donald Beisswenger, Vanderbilt emeritus professor of church and community, who is noted for his own civil rights advocacy and deep concern for others. The two would review the case studies Andrew had written.
Lindsey Krinks recalls the rewarding but "crazy busy" lives they led as graduate students, juggling school and jobs that put them barely above the poverty level. "Just before we started at the Divinity School, Nashville's flood of 2010 washed away Tent City, where more than 100 people were living along the banks of the Cumberland River, so we had a chaotic summer advocating with the displaced residents and putting the pieces back together," she says.
"Out of that disaster we saw the need for another kind of outreach group, so I became one of the co-founders of Open Table Nashville, an interfaith homeless outreach nonprofit. Previously, there were only a couple of agencies and a scattered group of individuals doing homeless outreach." The name "Open Table" indicates a place where everyone is welcome and there's always an open seat.
Lindsey echoes her husband's praise for the Divinity School's emphasis on connecting theory to real-life social justice initiatives. "There was this rich, transformative experience at the Divinity School in which our work on the ground was informing our theological education, and our classes were informing our social justice work."
---
The Rev. Kaki Friskics-Warren, MDiv'92, has earned a reputation for being a "go to" social entrepreneur when local community leaders are considering launching a new nonprofit. She has a proven track record in leading successful startups and then knowing when to step aside and move on to her next challenge. "I like to look at my life in seasons, with a season of planting followed by a season of resting," she says.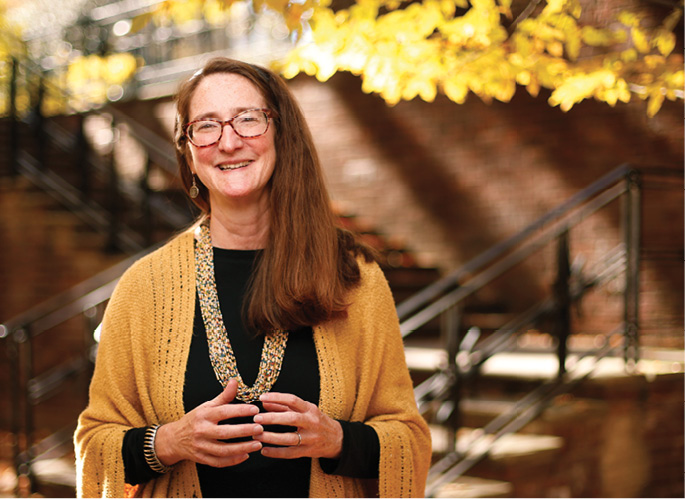 While serving as associate minister at Vine Street Christian Church and working with inmates on death row, Friskics-Warren realized the urgent need for a guesthouse in which inmates' families could stay while visiting their incarcerated loved ones. "I was young and idealistic, so it didn't bother me that I was new to nonprofits," she says.
Reconciliation opened in 1981 with Friskics-Warren in the executive director's role. "I was proud of our advocacy for state policies and procedures to benefit the prisoners' families, such as keeping down the phone rates for inmates to be able to call their loved ones," she says. "We also created support groups for inmates' wives and significant others as well as groups for inmates' children."
Friskics-Warren completed her course work at the Divinity School in 1984 but left before doing her senior thesis. At the time, she needed to focus on her ministry on Tennessee's death row. A decade later she received her divinity degree. For her senior project she wrote a premarital workbook for individuals considering marriage to people who are incarcerated. The publication is still available online.
Friskics-Warren left Reconciliation in late 1992 and spent three years as a part-time chaplain for Alive Hospice. "It was a wonderful place to be, but it didn't require the kinds of thinking needed for a social justice startup," she says.
In January 1996 she became the first executive director of Renewal House, a residential program for addicted mothers and their children. "At the time, the crack epidemic was a serious problem," she says, "and foster-care advocates were frustrated about having to separate so many families due to the mothers' addictions." She remembers the initial phase as a time of heavy lifting—some of it literally, as she and dedicated volunteers would pick up donated furniture on Saturdays.
Friskics-Warren sees a definite connection between her Divinity School education and her entrepreneurial spirit. "The faculty view the way one lives out one's faith or theological life as a broad, integrated concept," she says. "I didn't know that I would thrive on starting these nonprofits until I got into my professional life, but there's a theological imagination that is nurtured at Vanderbilt."
---
The Rev. Becca Stevens, MDiv'90, shares similar feelings about her theological education. "The Divinity School gives you the freedom to think about what your ideals of justice are," she says. "Then, when you go out in the world, you really don't want to compromise those ideals. When you discover an injustice, you can step in and create something that addresses the problem."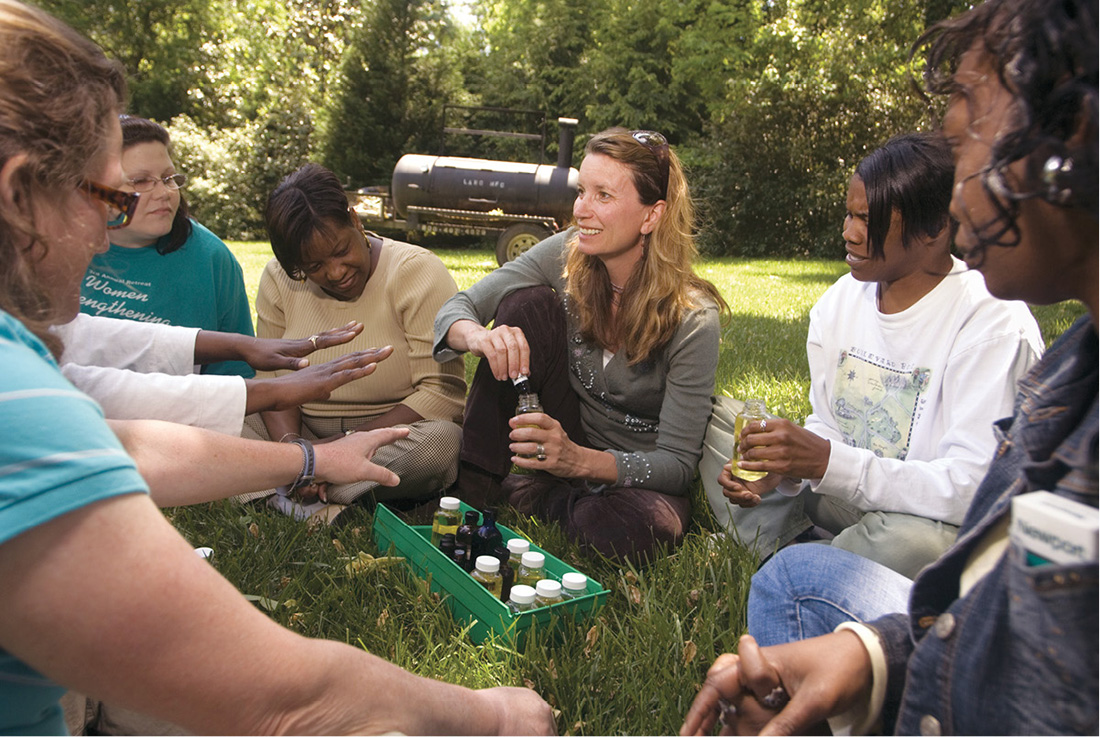 In 1997, Stevens founded Magdalene, a nonprofit two-year residential recovery community for women who have survived lives of violence, prostitution, addiction, and life on the street. Four years later she started Thistle Farms, which employs Magdalene residents and graduates to manufacture and distribute a line of natural body-care products. The enterprise aids in the women's own healing as well as those who purchase the products. About 20 Magdalene graduates work full time in salaried positions. In addition, any woman who becomes a Magdalene resident commits about 15 hours a week to Thistle Farms.
"While my own history of abuse as a child propelled me to start Magdalene," says Stevens, "the Divinity School introduced me to some of the great feminist theologians who remind us that we can use our voices. In addition, we don't have to apologize for doing so." She has found the Divinity School, as well as Vanderbilt in general, to be a great environment for incubating entrepreneurial ideas.
More recent additions to these enterprises include the Thistle Stop Café, staffed by the women of Magdalene, and Shared Trade: A Fair Share for Women. "Moving beyond fair trade, women producers are actually the lowest-paid link in the market chain," Stevens says. "How do you up that number for women? We have more than a dozen organizations around the globe with which we've made a formal partnership or alliance to market and sell their products with a 60/40 split."
A lifelong Episcopalian, Stevens appreciates the diversity of the Divinity School's community worship services. "I still remember Professor David Buttrick preaching, 'Don't let the lectionary get in the way of the gospel,'" Stevens says. "I have taken that to heart. We lose sight of the big picture because we get so wrapped up in the little minutiae."
Stevens, who was a recipient of the Divinity School's 2014 Distinguished Alumna Award, has become a sought-after speaker for other communities interested in the Magdalene model. She is chaplain at St. Augustine's Chapel on the Vanderbilt campus in addition to her guiding presence in Thistle Farms' expanding enterprises.
---
Perhaps what speaks loudest about the value of the Vanderbilt Divinity experience is that all the graduates profiled for this story continue to explore new challenges in their spiritually rewarding positions.
Friskics-Warren now serves as executive director of the Dan and Margaret Maddox Charitable Fund. Lindsey Krinks is director of street chaplaincy and education at Open Table, while Andrew Krinks has enrolled in the Vanderbilt Graduate Department of Religion doctoral program to prepare to teach.
McCulloh is president of the board of directors of Inter-Faith Council for Social Service, which provides shelter, food, direct services, advocacy and information to people in need through volunteer partnerships throughout the Chapel Hill, North Carolina, community. Wilson is a sports psychotherapist and performance consultant who recently relocated to Pleasanton, California, where he teaches comprehensive soldier fitness for U.S. Army personnel.
Hutchins continues to have a private practice and has received further training in other areas, including work with sexual addiction, depression associated with health problems, and couples therapy.
"I am grateful for the foundations provided by Vanderbilt Divinity School, grounding the intellectual study of faith and theology in the everyday expressions of work with persons in the field," he says. "It was, and is, a unique educational experience."
---
Ann Marie Deer Owens, a former reporter and broadcast news director, is senior public affairs officer for Vanderbilt University News and Communications. Honored by the Associated Press as Tennessee Broadcaster of the Year, she joined the university staff in 1992. She also writes and produces the long-running radio spot That's Vanderbilt, which is broadcast during Vanderbilt basketball and football games.
---