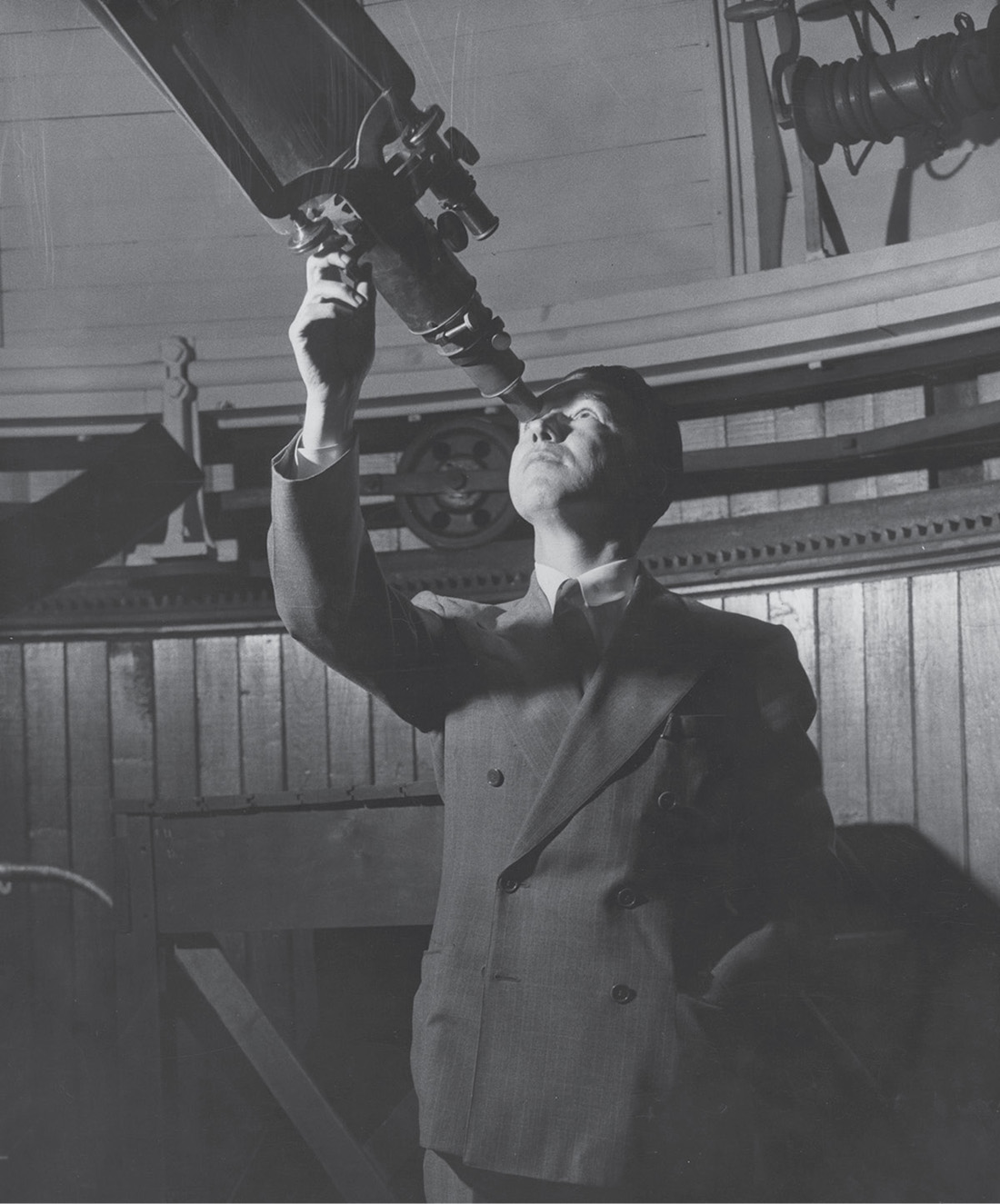 By Skip Anderson
Within weeks after an unusually large fireball exploded over Western Kentucky in 1950, Vanderbilt astronomer Carl K. Seyfert launched an expedition to recover fragments. As he and his team combed the countryside near Murray, Seyfert had no way of knowing just how scientifically significant the material he would bring back would prove to be. Nor could he have anticipated the incredible tale of crime and recovery that would become the space object's curious legacy.
Generally speaking, material from the faraway reaches of our solar system stays in the faraway reaches of our solar system, such as the asteroid belt where scientists believe the "Murray Meteorite" began its journey 4.6 billion years ago. But collisions happen, causing material orbiting the sun to fall inward toward the center of our solar system. Sometimes those objects crash into another celestial object. Sometimes that other celestial object is planet Earth.
"Most meteors are the size of a grain of sand," says Rocky Alvey, director of Vanderbilt Dyer Observatory. "Dust constantly comes to our planet from space. If you were to monitor a swimming pool effectively enough, and drag a magnet through it after a year or so, you most assuredly would find nickel–iron dust from meteorites."
When something the size of a grain of sand hits our atmosphere at 160,000 mph, it causes a "shooting star"—a beautiful blink-and-you-missed-it streak across the night sky. The meteor that streaked across the sky Sept. 20, 1950, however, was dramatically different than most. When the Murray Meteorite hit our atmosphere at 1:35 a.m., it turned into a fireball so bright that people in five states saw it streak southward for nearly 190 miles before exploding with such force that "thundering sounds jarred windows over a 1,000-square-mile area," according to the scientific journal Meteoritics.
It turns out the source of the fireball wasn't made of iron and nickel, which compose most meteorites. This particular object, according to Alvey, is a rare carbonaceous chondrite meteorite.
"It's made up of little round spherical things—the raw material that was collapsing into the protoplanetary disk that became our sun," Alvey says. "Our solar system is 4.6 billion years old. So it's the material from the cloud that collapsed to form our sun and our solar system, the Milky Way."
Seyfert, Dyer Observatory's first director, was a Harvard-trained astronomer who arrived at Vanderbilt in 1946. By then he had already published 30 papers in his field with an emphasis on photometry and spectroscopy of stars, and also studied a "class of active galaxies" that came to be known as Seyfert galaxies. In Nashville, besides expanding Vanderbilt's astronomy program, he moonlighted as a TV weatherman. He was a popular lecturer, too, fueling Americans' appetite for all things space-related during the Sputnik era. He was 49 years old and at the height of his career when a car accident claimed his life on June 13, 1960.
The year before his death, the Smithsonian Institution in Washington, D.C., purchased 16 pounds of fragments from the Murray Meteorite. According to a press release issued March 17, 1959, the seller of the fragments was a "diligent collector" named Hugh Howard. Much to Howard's frustration, the largest known fragment was not a part of his collection. Instead, the 8-pound meteorite sat in a locked display case inside Vanderbilt's former observatory near where Rand Hall stands today.
Shortly after Howard sold his collection, he enrolled at Vanderbilt University as a 24-year-old undergraduate student. It is unclear as to what degree his interest in studying at Vanderbilt was heightened by the centerpiece fragment that had eluded his former collection, but what he did shortly after his arrival suggests a strong correlation. After visiting the observatory several times, Howard stole the prized meteorite, replacing it with a painted clay replica.
Howard enrolled at Vanderbilt, stole the prized meteorite from the observatory, and replaced it with a painted clay replica.
"A couple of days later, observatory scientists checking exhibits noticed that the meteorite looked a little blacker than usual," wrote Jeff O'Neill in The Washington Post on Nov. 30, 1960. "Howard's fingerprints were found on the case, authorities said. The phony meteorite was kept on display for fear that the thief would destroy the original, valued at $2,000 [nearly $16,000 today when adjusted for inflation], if he thought the crime were discovered."
Authorities arrested Howard in Arlington, Virginia, on grand larceny charges, and he served time in prison and was later murdered.
Despite authorities recovering the Murray Meteorite, it's not a part of Vanderbilt's collection. Because Vanderbilt had no paperwork to prove ownership, it's now housed in the world's leading collection at Arizona State University.
"The FBI didn't send it," says Carleton Moore, Regents Professor, Emeritus, and founding director of the Center for Meteorite Studies at ASU. "It was purchased from an individual who I trust was the legal owner."
So, has Vanderbilt contacted ASU to claim the space rock?
"Oh, no. This is a fascinating piece of Vanderbilt's history that builds upon the legacies of [astronomer E.E.] Barnard and Seyfert," Alvey says. "But I would love for ASU to say that a piece of it is coming back home. That would be nice."
---
Skip Anderson is editor of The Contributor, a Nashville street newspaper sold by homeless and formerly homeless people. He is the former editor of the Vanderbilt Lawyer, Vanderbilt Register and Commodore Nation.
---