Media Inquiries
Latest Stories
Vanderbilt's Provost Focuses on Synergy and Balance between the Humanities and Sciences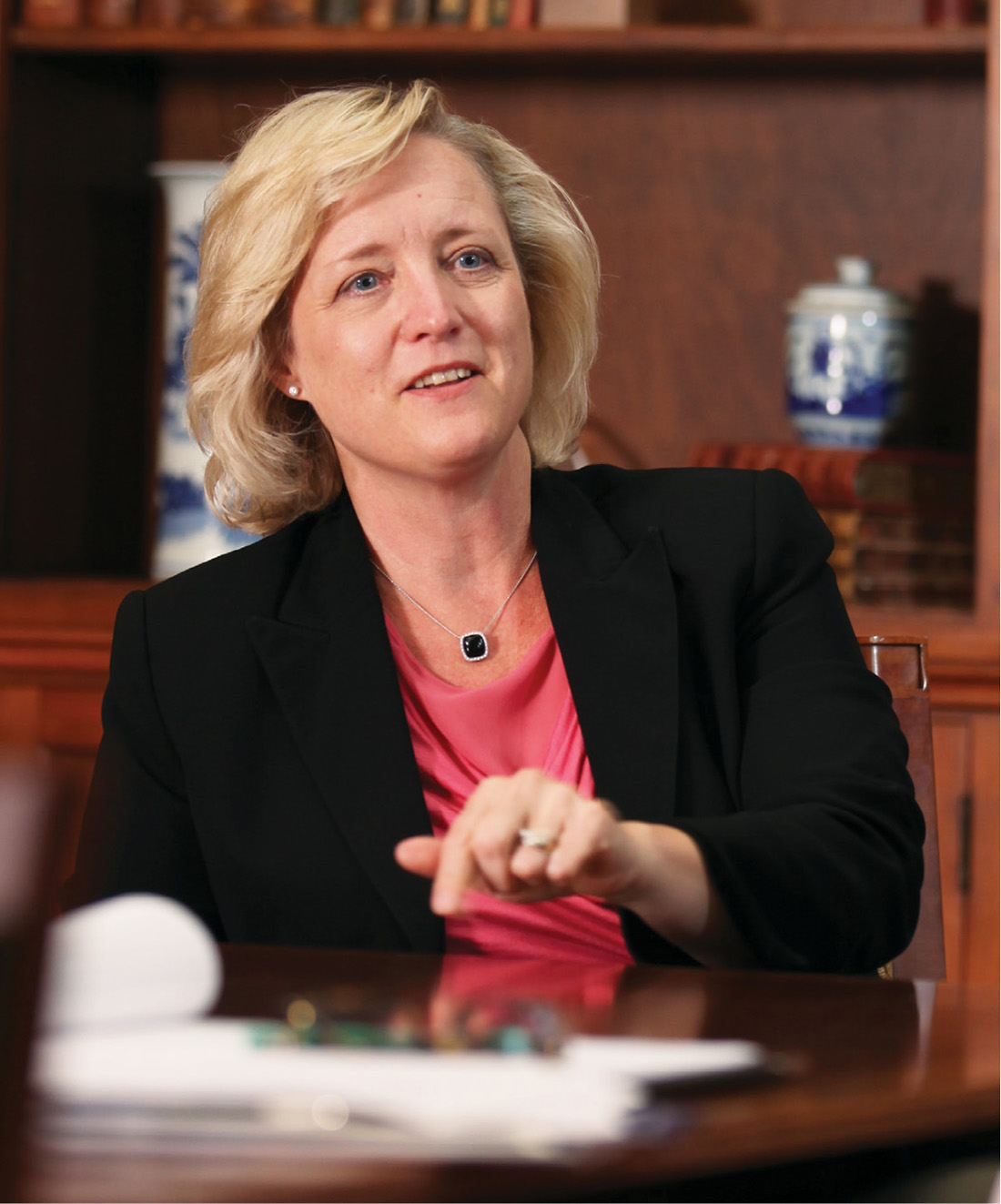 Last April, Susan Wente, a cell biologist who most recently served as associate vice chancellor for research and senior associate dean for biomedical sciences at Vanderbilt, was named university provost and vice chancellor for academic affairs. In addition to being responsible for the academic affairs for Vanderbilt University's colleges and schools, she also oversees student affairs, housing, admissions and financial aid, and research.
Previously, she spearheaded the School of Medicine basic science education and research missions, including several trans-institutional programs. During academic year 2013–14, she co-chaired the executive committee of the university-wide academic strategic plan and now is co-directing its implementation. She also continues to work with students and fellows in her laboratory, pursuing work aimed at furthering our knowledge of the exchange mechanism for proteins and genetic material between the nucleus and cytoplasm.
Wente earned her Ph.D. in biochemistry from the University of California, Berkeley, after completing her bachelor's in biochemistry at the University of Iowa.
---
You've been a researcher for much of your career. What appealed to you about the provost's job?
I love research and could keep doing just that all the time, but I have always been somebody who ended up organizing things and pulling people together. I am excited about teaching the next generation of leaders at Vanderbilt, creating environments for creative thought and research. Now, in essence, instead of just doing my own research, I get to help other scholars in a way that seems to expand exponentially and touch many more.
What attracted you to Vanderbilt when you moved here from Washington University in 2002?
The Vanderbilt culture was very progressive in terms of women in leadership positions. I knew Vanderbilt wasn't hiring me because they needed to fill their first woman chair. I was confident they wanted me because I was the best person for the job.
Vanderbilt also had a biomedical graduate program that was truly interdisciplinary, as well as collaborative research core facilities. They were willing to take risks and be entrepreneurial, especially in trans-institutional arenas. The attitude was: You've got a great idea? Let's try it.
You are the university's first provost to come from a background with Vanderbilt Medical Center. In your new role, much of your focus is on undergraduate education. Has that been a big transition?
It has been an amazing transition, and the year of strategic planning on the undergraduate residential experience gave me key insights. I have always had undergraduates working in my laboratory, and my experience with graduate education has given me ideas about the experiences undergraduates need to be successful in their next steps. I view undergraduate education as the foundation of a research university. The value of broad-based liberal arts education with synergy and balance between the humanities and sciences has always resonated with me.
In November, just a few months after you became provost, Vanderbilt leadership announced plans to reconfigure VUMC as a not-for-profit academic medical center that is financially distinct from Vanderbilt University. How will that affect students?
We're determined to handle the transition in a way that preserves "One Vanderbilt" as our common mission. Our culture allows deep and unique interdisciplinary collaborations to flourish with humanists, social scientists and natural scientists working together. Our faculty will all still serve together in trans-institutional programs and on strategic planning committees. And our students will still interact with all our faculty, departments and schools or colleges in the same way they do now.
Can you provide an elevator-speech version of what Vanderbilt's strategic plan is all about?
The strategic plan is our map for the future, brainstormed by bringing together faculty, students and staff from different disciplines. The initiatives will allow us to further pursue excellence and invest in scholarship, creative expression and fundamental research. Thus, the tag line—"Discovery and Learning." We must offer our students the very best learning experience in a diverse intellectual community. And, we must generate new and creative discoveries that address important problems and questions facing society. We will do this by leveraging the many synergies between discovery and learning, research and teaching, available in our distinctive "One Vanderbilt" culture. This is how we will make a difference, have an impact.
If you look back at Vanderbilt's previous strategic plans, you'll see that they were not something that was worked on for a year and then put on a bookshelf and forgotten; they really have been guidelines and spotlights for what we should be doing.
Your own daughters are in college and high school now. What sort of advice do you try to impart to them?
Aim high. Find a passion about a certain area or topic, and turn that into a career. And don't worry if you change your mind about what you said you were going to be, because nobody will remember.
Did you learn that from your own parents?
My parents instilled a huge work ethic and core values of the importance of education. I was born in Norfolk, Nebraska, and grew up in Emmetsburg, Iowa. My mother was a nurse who worked the night shift when I was young. She is always helping others and encouraged me to aim high. My father was an educator, and the first in his family to get a college degree. I remember so clearly when he ultimately got a doctorate in education when I was in ninth grade. I saw my parents balance dual careers and share parenting and household responsibilities. When I needed to learn how to make a pot roast, I called my dad for his recipe. Growing up in a small town, I learned about honesty, loyalty, working with and for others, and living within your means.
---