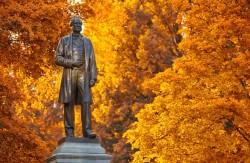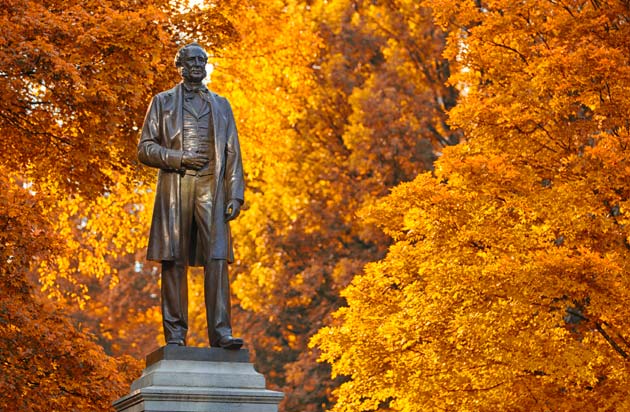 Minutes from the Vanderbilt Faculty Senate's Nov. 6 meeting are now available online on the Faculty Senate website. (Meeting minutes are published approximately one month after the senate convenes.)
At the Nov. 6 meeting, Chair Paul Lim gave the report of the senate's Executive Committee. Topics he discussed included the following:
Updates being made to the power-based personal violence training for Vanderbilt community members that have temporarily delayed the all-faculty training's rollout;
The ongoing discussion surrounding globalization and internationalization at Vanderbilt and plans to launch a survey to gather faculty input;
Working with faculty senators to implement the Academic Strategic Plan;
Continuing the work of the senate's Online Education Task Force, which will present recommendations at a future senate meeting;
The formation of the Future of the Libraries Committee; and
The creation of a report that will explore the possibility of extending the tuition reduction benefit to faculty and staff with children who participate in nontraditional post-secondary education programs.
Next, Provost Susan Wente addressed the senate and discussed her first four months in office. She spoke about the searches to fill several key administrative vacancies, including dean of Arts and Science, dean of the Graduate School, dean of libraries, vice provost for research and dean of The Martha Rivers Ingram Commons. She also discussed implementing the initiatives of the Academic Strategic Plan and some of the new programs it will create, such as Trans-Institutional Programs (TIPS). Wente then took questions from the senate.
Vice Chancellor for Athletics and University Affairs and Athletics Director David Williams gave an update on student athletics. He discussed the five pillars of the Vanderbilt Athletics program: academic success, competitive success, financial stewardship, the quality of the student-athlete experience and the changing legal landscape of college athletics, the latter of which Vice Chancellor and General Counsel Audrey Anderson addressed in more detail. Williams also took questions from the senate.
Under new business, a motion was brought forth to approve a new degree program, the Ph.D. in Astrophysics. It was decided a quorum was not present to vote on the motion, so voting was suspended until a future meeting.
Read the full November meeting minutes here.
For more information about the senate, upcoming meetings or to find the senators who serve your school, visit the Faculty Senate website.
Contact: Andrea Hewitt, (615) 343-3841
andrea.c.hewitt@vanderbilt.edu