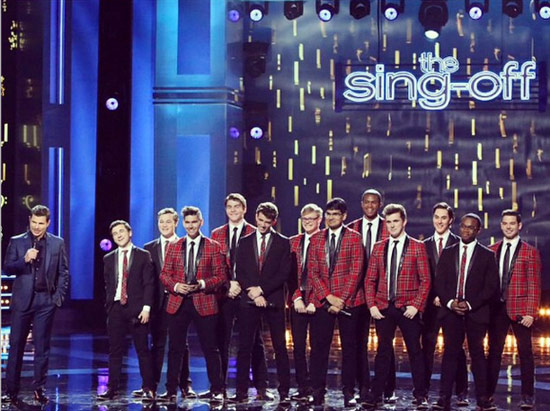 Vanderbilt student a cappella group The Melodores were named the winners of The Sing-Off holiday special airing Dec. 17 on NBC. The Melodores beat out five other teams during the one-night-only event to take home a $50,000 grand prize. They are the first collegiate group in Sing-Off history to win the competition.
Hosted by Nick Lachey and filmed at the Dolby Theatre in Hollywood, the show featured vocal groups from across the country covering hits from the pop, rock and R&B genres. Boyz II Men vocalist Shawn Stockman, singer-songwriter Jewel and Fall Out Boy lead singer Patrick Stump served as judges.
During the first round, each team performed a signature song from its repertoire. The Melodores performed their version of "Trumpets" by Jason Derulo. As one of three teams to advance to the judges' choice round, The Melodores were assigned Hozier's "Take Me to Church," which they performed with little rehearsal and a powerhouse solo from member Dan McNeill. They beat out Myrtle Beach, South Carolina's The Exchange, which includes several Sing-Off contestants from previous seasons, and New York City's Traces, an R&B/gospel ensemble, to take the Sing-Off season five title. Performances of the groups' signature songs, including The Melodores' rendition of "Trumpets," are available for download on iTunes.
Watch the full episode on the NBC website.
Read reaction to the win on social media.
Formed in spring 2009 on the Vanderbilt campus, The Melodores include about a dozen members, all of whom are current Vanderbilt students. In 2011, the group placed third at the International Championship of Collegiate A Cappella held at New York City's Lincoln Center. In 2012, they were selected as one of six groups to compete at SoJam, an a cappella festival in North Carolina. The Melodores were featured performers at Nashville's TEDx Conference in March 2014. Senior Ted Moock will also be featured as a "Treblemaker" in the upcoming film Pitch Perfect 2, slated for release in May 2015.
The group performs about 30 concerts for Vanderbilt's Greek community, charitable organizations and administrative functions each year as well as biannual concerts for the student body, faculty and general public. The Melodores also tour each fall to cities like Chicago, Boston and Los Angeles, where they perform at local high schools, speak about continuing music in college, and generate interest in applying to Vanderbilt.