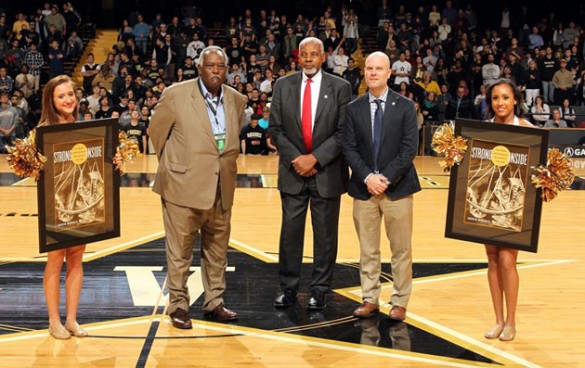 Perry Wallace, a true hero in Nashville and Vanderbilt history, came home to the Vanderbilt campus for a visit and to help launch a book about his life.
Wallace, now a law professor at the Washington College of Law at American University, was honored at Memorial Gym during halftime of the Dec. 4 basketball game against Baylor and also earlier in the day at the Jane and Alexander Heard Library. He was joined by Andrew Maraniss, author of Strong Inside: Perry Wallace and the Collision of Race and Sports in the South.
Wallace was the first African American to play basketball in the Southeastern Conference beginning in the 1966 fall semester. The book details the abuse he suffered at the hands of bigots during road games as well as the social isolation he suffered at Vanderbilt. It also tells the story of how Wallace and the university eventually reconciled.
At the basketball game, Maraniss and Wallace were presented with framed prints of the book cover for Strong Inside.