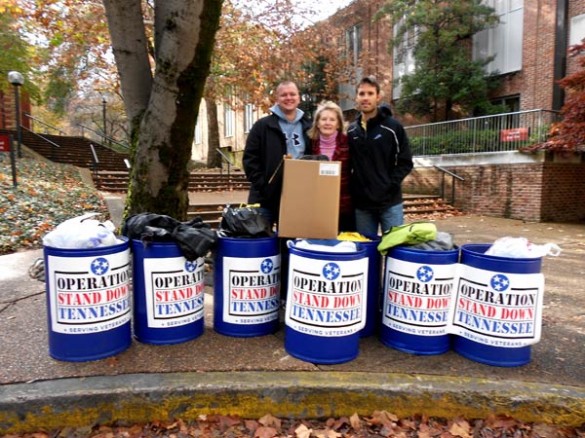 Vanderbilt Law School, Owen Graduate School of Management and School of Nursing students along with Vanderbilt Human Resources employees donated clothing in support of Operation Stand Down Tennessee's annual Stand Down event Nov. 19. The Vanderbilt groups collected and filled eight bins with clothing, including 150 shirts, 40 pairs of pants, 46 pairs of socks, 10 packs of t-shirts, 18 packs of undergarments, 30 coats, 10 pairs of shoes, 10 pairs of gloves, five hats and four belts, and contributed $200.
School of Nursing faculty and students and Vanderbilt University Medical Center and HR staff joined more than 500 volunteers from 100 organizations and community service providers at the Stand Down event. Medical and dental care, mental health, legal and housing services, clothing and free meals were provided to 245 veterans. The clothing collection activity was coordinated by the Vanderbilt Veterans Employment Transition Committee, a group formed to increase outreach to veterans, create a transition-support system, and promote awareness of Vanderbilt's commitment to the military community.
"The Operation Stand Down event was awesome," said Erika VanHeyningen, a Human Resources associate who greeted and checked in veterans, helped with medical wrist bands and assembled packets. "Being face to face with so many veterans was an absolutely rewarding experience. I have volunteered at other events, but this was by far the best experience. I plan to volunteer next year as well."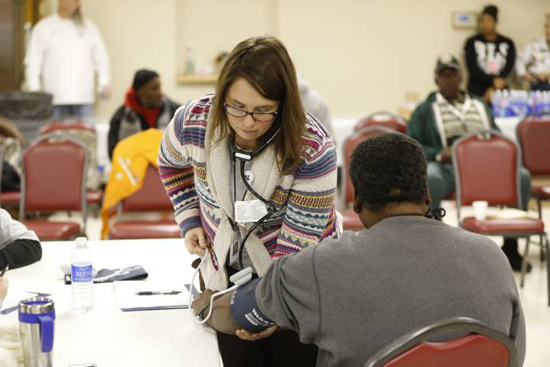 Donna Pavlick, assistant dean for academic life at Vanderbilt Law School and a retired captain in the U.S. Navy Reserve, serves on Operation Stand Down Tennessee's Board of Directors as well as the Vanderbilt VETS Committee. She spearheaded the law and Owen schools' participation, and emphasized that the actual volunteer activities were student-driven. "The students were very excited about this event," Pavlick said. "It's really encouraging to see the number of students engaged, and it bodes well for Vanderbilt's long-term connection with Operation Stand Down. Our number of student-veterans has been increasing, and we hope to see this initiative grow as well."
Kelly Wolgast, assistant professor and director at Vanderbilt School of Nursing and a retired colonel in the U.S. Army, coordinated the effort for the School of Nursing. "VUSN has a long history of fostering community and clinical partnerships, and we're proud to have participated in the clothing drive in support of veterans outreach through Operation Stand Down Tennessee," said Wolgast, who also serves on the Vanderbilt VETS Committee.
The mission of Operation Stand Down Tennessee is to assist veterans and their families to be self-sustaining and better connected to the community. The organization places special emphasis on helping homeless veterans. "Operation Stand Down is doing an outstanding job helping veterans, and I am very proud to be a part of the organization," Pavlick said.
For more information about the Vanderbilt VETS Committee, contact committee co-chairs Janet Rachel, HR talent acquisition manager, or Anita Jenious, director of Equal Employment, Affirmative Action and Disability Services at Vanderbilt.