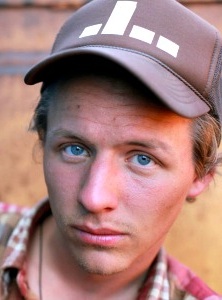 The National Endowment for the Arts has awarded a literary arts fellowship to Anders Carlson-Wee, a second-year poetry student in Vanderbilt's MFA Program in Creative Writing.
Carlson-Wee, a former professional rollerblader, will receive a Creative Writing Fellowship in Poetry. This $25,000, non-matching fellowship allows published writers to set aside time for writing, research, travel, and career advancement.
"I am thrilled for Anders and our stellar graduate program in creative writing," said John M. Sloop, interim dean of the College of Arts and Science. "The NEA literary arts fellowship is an extraordinary achievement, recognizing Anders' promising future as a gifted young poet."
Kate Daniels, a professor of English who directs the MFA Program in Creative Writing, noted that Carlson-Wee was one of only 36 recipients selected from more than 1,600 poets.
"Anders is an extraordinarily gifted, hard-working and focused young poet who challenges himself at every opportunity," Daniels said. "Although poets tend to be known, especially in their younger years, for their disinclination to conform to social norms, Anders' real-life experience is more unconventional than that of most of his peers. He has had an entire other life beyond and besides poetry — wilderness survival, freight train hopping and professional rollerblading."
Carlson-Wee was raised in northern Minnesota and earned his undergraduate degree from Fairhaven College of Western Washington University. He is the winner of Ninth Letter's 2014 Poetry Award and New Delta Review's 2014 Editors' Choice Prize. His work has appeared or is forthcoming in The Missouri Review, West Branch, Blackbird, The Journal, Ninth Letter, Linebreak, The Paris-American, Best New Poets 2012 and 2014, and more.
"Anders' poems are remarkable for many qualities, but perhaps most of all for their delicate, yet intense imagery, and the unusual, arresting manner in which he brings his images together with direct statement and narrative clarity," Daniels said. "The effect can be unforgettable — haunting and straightforward simultaneously. How he achieves this is part of his remarkable poetic gift."
The National Endowment for the Arts is an independent federal agency that funds and promotes artistic excellence, creativity, and innovation for the benefit of individuals and communities. The award to Carlson-Wee was included in the agency's first fiscal year 2015 announcement of $29 million for grants in three categories: Art Works, Challenge America, and NEA Literature Fellowships in Creative Writing.
Vanderbilt's MFA Program, housed within the Department of English, continues to be ranked among the top MFA Programs in the country by Poets and Writers magazine. It ranks number one for selectivity.
The prize-winning creative writing faculty includes fiction writers Tony Earley, Lorraine Lopez, Lorrie Moore and Nancy Reisman; poets Mark Jarman, Kate Daniels, Rick Hilles, Beth Bachmann and Sandy Solomon; and nonfiction writer Peter Guralnick.