Vanderbilt's 2014 Holiday Gift Giveaway is scheduled for Friday, Dec. 19. Employees can choose a free Vanderbilt apron, turkey or tofurkey.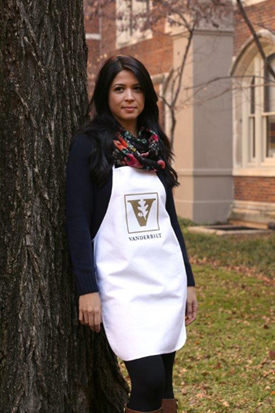 Returning for 2014
A limited number of signature Vanderbilt aprons are available to choose in lieu of a turkey. Some will have surprises inside!
Pickup locations
Langford Auditorium
Employees on the main campus will pick up their gift at Langford Auditorium from 6 a.m. to midnight. Main campus includes the university and Medical Center main campuses and locations within these boundaries: north of I-440, south of I-40, west of I-65, and south of West End Avenue (including sites on West End Avenue).
One Hundred Oaks

Employees at Vanderbilt Health One Hundred Oaks will pick up their gift at One Hundred Oaks from 7:30 a.m. to 5:30 p.m.
 Other areas
Managers will pick up gifts for employees who work in Williamson County or outlying areas. See your manager for more information.
ID required
Employees must present a valid Vanderbilt photo ID in person to retrieve their gift. One gift is available per employee, and there are no rain checks.
Transportation and parking
Regular shuttle routes will remain in effect, and special "turkey event" shuttles will run between Medical Center North and Kirkland Hall from 7 a.m. to 7 p.m., and between Medical Center North and the 25th Avenue Garage from 6 a.m. to 6 p.m. Open parking will be available in the 25th Avenue Garage from 6 a.m. to 6 p.m. Note: Garland Avenue between 24th Avenue and the Round Wing will be closed to all vehicles except for patient access, mobility impaired employees and shuttles.
For mobility impaired employees
Alternate arrangements must be made in advance. To arrange your gift pickup, please email HolidayGiftGiveaway@vanderbilt.edu.
Please note: Leftover turkeys will be donated to the Second Harvest Food Bank.
Visit the Employee Celebration website for more information.