New locations for glass recycling available on campus
Dec. 3, 2014, 9:06 AM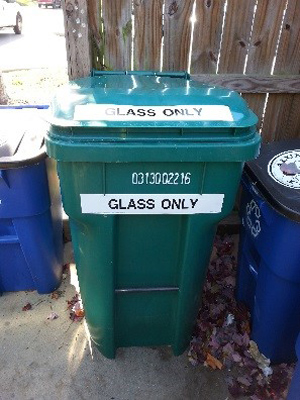 Vanderbilt's Sustainability and Environmental Management Office (SEMO) has added six new glass recycling locations to the main campus this semester, bringing the total number to eight.
In addition to existing glass recycling drop-off locations outside of The Commons Center and on the Rand Hall loading dock, the Vanderbilt community can now place glass for recycling in clearly labeled toters or small dumpsters outside of the following buildings:
Carmichael Towers West

Warren College
Moore College
Crawford House
Lewis House
McTyeire Hall
A map of these new locations can be found here, or print a flyer to post in your area detailing the new locations.
By continuously expanding recycling options, Vanderbilt has doubled its recycling amount in two years from 3 million pounds to 6 million pounds annually.
For more information on recycling or other sustainability programs at Vanderbilt, visit the SustainVU website or email sustainvu@vanderbilt.edu.