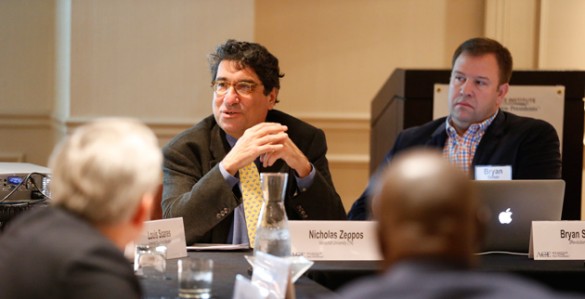 Vanderbilt Chancellor Nicholas S. Zeppos addressed the most recent meeting of the American Council on Education's Institute for New Presidents Dec. 3 in Nashville. Zeppos welcomed members of the 2014-15 institute and participated in a question-and-answer session.
The ACE Institute for New Presidents, designed specifically for presidents within their first three years of service, is a nine-month program consisting of three in-person meetings held at various locations around the country. Activities include incorporating interactive panels with experienced presidents and other experts, mini-case studies presented by program participants, and conversations with peers from a range of institutions.
Zeppos was invited to address the group by ACE President Molly Broad and introduced at the meeting by Louis Soares, vice president for policy strategy with ACE. Vanderbilt Vice Chancellor for Health Affairs and Dean of the School of Medicine Jeff Balser also addressed institute members during the Nashville meeting.