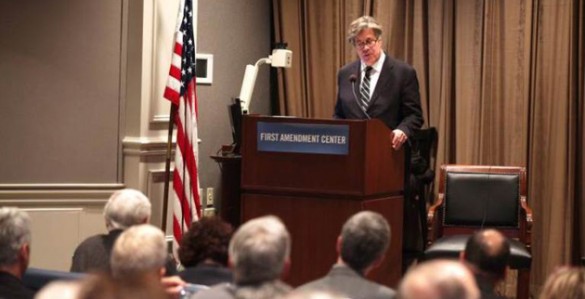 Pulitzer Prize-winning writer David Maraniss, whose books include biographies of presidents Obama and Clinton, will return to Vanderbilt this spring to co-teach two courses.
Maraniss, Distinguished Visiting Professor of Political Science, last taught at Vanderbilt in 2013. He will teach a course on political biography with Bruce Oppenheimer, professor of political science.
"The students' reaction to David and his enjoyment of teaching them two years ago were both so overwhelmingly positive that we're delighted to have him in residence again this spring," Oppenheimer said. "[rquote]This is the type of unique educational opportunity that Vanderbilt is able to offer its undergraduates."[/rquote]
Maraniss also will co-teach a seminar on the Vietnam War with Tom Schwartz, professor of history.
"Teaching with David Maraniss is a privilege for me and a unique opportunity for Vanderbilt students," Schwartz said. "Maraniss is one of the foremost political journalists in the United States, and his study of the Vietnam War, They Marched into Sunlight, is an extraordinarily compelling book."
Maraniss, an associate editor at The Washington Post, has been nominated for the Pulitzer Prize three times, and won it in 1993 in the national reporter category for his newspaper coverage of then-presidential candidate Bill Clinton. He also was part of The Washington Post team that won a 2008 Pulitzer for the newspaper's coverage of the Virginia Tech shootings.
Maraniss has written biographies of Al Gore, baseball player Roberto Clemente and football coach Vince Lombardi. His other books include Barack Obama: The Story; First in His Class: A Biography of Bill Clinton; Rome 1960: The Summer Olympics that Stirred the World; and Into the Story: A Writer's Journey through Life, Politics, Sports and Loss.
"I think of Vanderbilt as my home away from home, with a great faculty and invigorating students," Maraniss said. "I'm looking forward to teaching there again this spring with my friends Bruce Oppenheimer and Tom Schwartz."