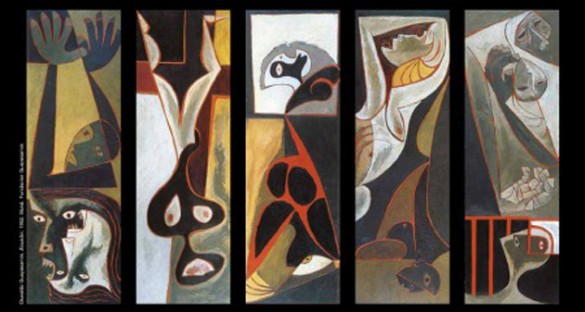 Art by Oswaldo Guayasamín, one of the most prominent Latin American artists of the 20th century, is spotlighted in an interactive exhibit opening Nov. 14 with a 4:30 p.m. reception at Vanderbilt University's Sarratt Center.
The Vanderbilt Center for Latin American Studies (CLAS) presents "Art in Motion: Guayasamín's 'Ecuador' Unframed" in the Sarratt Center Promenade.
A reproduction of Guayasamín's mural "Ecuador" is made interactive by bringing together social history, multimedia representation and mathematical algorithms, according to Avery Dickins De Girón, executive director of CLAS. "A digital interface accompanies the exhibit and allows visitors to view tens of thousands of potential configurations of the five panels, and even to virtually create their own mural," Dickins De Girón said.
This exhibit combines art and technology and explores questions of race, identity and politics. CLAS collaborated with Notre Dame professors Carlos A. Jáuregui and Tatiana Botero, Vanderbilt's Fine Arts Gallery, the Curb Center for Art, Enterprise and Public Policy, and The Martha Rivers Ingram Commons at Vanderbilt to bring the exhibit to campus.
"[rquote]Guayasamín's vision was that identity is always in motion, and the mural 'Ecuador' represents the inherent antagonisms and racial multiplicity of the Ecuadorian nation,"[/rquote] Dickins De Girón said.
In 2008, the Center for Latin American Studies and the Vanderbilt Fine Arts Gallery organized the first major exhibition of Guayasamín's work in the United States.
The reproduction of the mural will be displayed through Dec. 14 at Sarratt Student Center. It then moves to The Commons Center from Jan. 5 through 30. The Center for Latin American Studies and the Curb Center will host a professional development workshop on the exhibit for regional educators Jan. 10 on the Vanderbilt campus.
As part of CLAS' regional outreach, the exhibit will travel to the Kentucky Museum at Western Kentucky University Feb. 7-28.
For more information, contact the Center for Latin American Studies or call 615-322-2527.