Look what we were able to do together: The Turner Scholars program
Nov. 4, 2014, 3:39 PM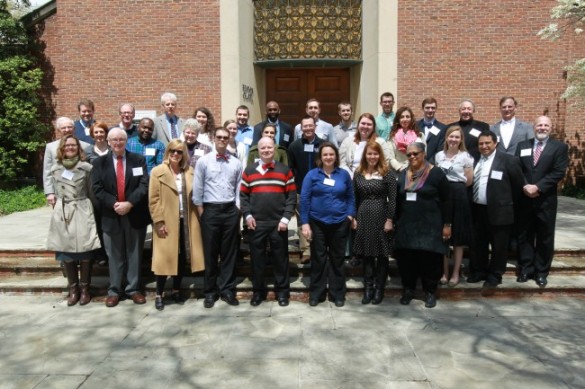 The Rev. Jessica Bridges, MDiv'10, was part of the first cohort of students in Vanderbilt Divinity School's Cal Turner Leadership Scholars program.
"We were the guinea pigs," she fondly recalled.
Since 2007, the Turner Scholars program has been helping develop congregational leaders for the United Methodist Church. The vision and support for the program came from Cal Turner Jr., who generously has given more than 40 students the opportunity to be part of this unique program.
"Having wrestled with the call to ministry as a teenager," Turner said, "I have always identified with persons who say yes to the challenge of church leadership. Being able to empower and encourage them has given me great joy."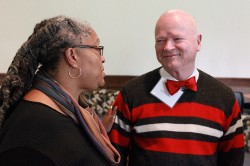 "The Turner Scholars Program has been instrumental in providing a mentoring leadership model for the students, pastors and churches who have participated in it," said Emilie Townes, dean of the Divinity School and holder of the E. Rhodes and Leona B. Carpenter Chair. "It also lays the foundation for a growing clergy leadership network among the participants while in school and beyond. The students in this program can be lifelong colleagues with each other—serving as resources for each other, sounding boards for new ideas and tough situations, and a place for them to talk about the challenges and gifts of ministry. It is a marvelous resource to help build strong and vital clergy leaders and the churches they will serve."
Bridges was placed with Calvary United Methodist Church, located in Green Hills, an affluent Nashville neighborhood. She initially was less than pleased when she found out this was her placement.
"My first reaction was—this is Green Hills!" she recalled. "God isn't in Green Hills! God isn't across from Starbucks! God isn't next to the mall!" But not only did Bridges decide to stick with the Turner Scholars program, she ended up staying at Calvary for the full three years.
"I fell in love," Bridges said. "It ended up feeling like home for me. I found community there. I even continued to worship there after I graduated."
Today, Bridges is a deacon for the United Methodist Church and a house coordinator for L'Arche, a faith-based intentional living community for people with and without intellectual disabilities. And she credits the Turner Scholars program for preparing her to do this work.
"People ask me what kind of training I have for what I'm doing. I don't have any developmental disability training. I've never taken a psychology or special education class," she said. "But my experience at Calvary really developed my critical thinking skills. I've been surprised by my own capacity and by the spirit, but also recalling, 'Oh, I've been trained to have these conversations. I've been trained to speak the truth in love.'"
The Rev. Adam Kelchner, MDiv'12, came to the Turner Scholars program with some skepticism, too.
Growing up in the United Methodist tradition, Kelchner was about 12 when he felt called to the ministry. But as he grew older, he went through a period of disillusionment with the church.
"I just had a deep disdain for the local church pastors," Kelchner remembered. "It was coming to the Divinity School and getting a placement at Belmont United Methodist Church that really warmed me back up to the church, and two years in, it was a done deal. I was in the ordination process and deeply involved in the local church ministry. And all the ill will fell by the wayside."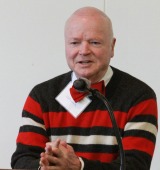 Since graduating, Kelchner partnered with another Divinity alumna to establish Tennessee's newest United Methodist ministry at Belmont University while also continuing to work at Belmont United Methodist Church. Recently, he assumed a new position as pastor for a Burmese refugee community that worships at the Golden Triangle Ministries at Belmont United Methodist.
Both Kelchner and Bridges link the length of their Turner placements to their current success.
"One of the greatest gifts of that program was to have three consistent years to be in these local churches," Kelchner said. "To be loved by the people and nurtured as a student, but also to begin practicing ministry, to make mistakes and to grow from those."
The Rev. Judi Hoffman, MDiv'91, pastor for East End United Methodist Church, echoes these sentiments. Over the years, Hoffman mentored three Turner Scholars at two separate churches. She also has a long history with the Turner family. As a student at the Divinity School, she received the first Dollar General scholarship, which was supported by the Turner family, who founded the company in 1939.
"I talked to Cal not too long ago at celebration for the Turner Scholars," Hoffman said. "I told him to look around this room at all these people. You've had a responsibility for equipping and empowering them, and now we're sending them out into the world. And he's just got to be proud of that. He does this out of his faith, and I'm inspired by him a lot. And very thankful and grateful, too."
Hoffman is aware of the Turner Scholars program's impact on her as well.
"It was certainly mentor and mentee, but it was also peer to peer, colleague to colleague. They were just bright, energetic, faithful and determined to lead the church into a new century and new light," she said. "My life is different than it would have been without having known them. My ministry has flourished because of being in partnership with them."
She also saw how the congregations benefited.
"It challenged them, too, and helped them grow. The Turner Scholars are young, and they come with fresh ideas," Hoffman continued. "Things that we forget or take for granted. Things that maybe we haven't thought about from a faith perspective for a while. And the congregations also felt like they had contributed in an invaluable way as someone studied for the ministry. They came away thinking 'Wow, look what we were able to do together.'"
by Becca Jensen