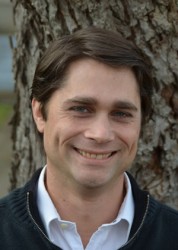 The associate director of the Vanderbilt Center for Science Outreach will discuss overcoming obstacles to scientific innovation at a public conversation at the Nashville Public Library on Nov. 5.
Chris Vanags will be featured at the latest talk in the series Thinking Out of the (Lunch) Box: Conversations with a Philosophical Flair with David Wood. Vanags' talk is titled "In Praise of Scientific Heresy: How Big Thinking Drives Change."
Box lunches will be available starting at 11:30 a.m. for the first 200 people to arrive. A voluntary donation of $5 is requested per lunch to help defray expenses. The lunch and program will take place in the library's Conference Center.
"[lquote]My presentation will provide a perspective on how scientific innovation has been limited or potentially derailed by cultural, political, economic and religious challenges,"[/lquote] said Vanags, who is also a research assistant professor in the Department of Earth and Environmental Sciences at Vanderbilt. "We will discuss some 'heretical scientists' who successfully confronted those challenges and achieved remarkable results. We will conclude by reviewing important variables that could significantly foster future scientific innovation."
A few changes have been implemented since the Vanderbilt Philosophy Department took over as co-host with the Friends of the Nashville Public Library. Reservations are no longer necessary. Interested individuals may just show up at the library, located at 615 Church St.
For more information, call the library at 615-862-5800 or contact David Wood.