Media Inquiries
Latest Stories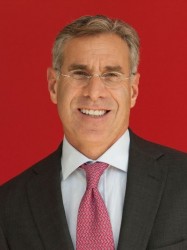 Vanderbilt University's Owen Graduate School of Management will host distinguished speakers as well as health care professionals, students and recruiters at its seventh annual Health Care Conference Nov. 7. This year's gathering will also include a new series of panels called "Owen Talks" discussing health care innovations.
Keynote speakers include George Barrett, chairman and CEO of Cardinal Health, a leading provider of pharmaceutical and medical products and services that ranks No. 22 on this year's Fortune 500 list. Other keynote speakers include Sue Siegel, CEO of GE Ventures and healthymagination, who has been recognized as one of the 100 most influential women in Silicon Valley; and David Goldhill, president and CEO of Game Show Network and author of Catastrophic Care: How American Health Care Killed My Father – and How We can Fix It.
This year's "Owen Talks" series will feature speakers from NBBJ Architecture, Consumer Reports, and ProofX, a leader in 3D biomedical printing and prototyping.
"Working with leading faculty and executives in health care, our students have built a must-attend event for anyone working in this rapidly changing space," said Eric Johnson, dean of the Owen Graduate School of Management. "[rquote]Each year, the Vanderbilt Health Care Conference continues to grow in terms of its offerings and prestige. I'm very proud of what out student leaders have achieved this year."[/rquote]
Health care professionals, recruiters and graduate students are invited to attend the event to be held at the Music City Center in downtown Nashville. Registration for students is $60; for professionals $200. Reporters interested in covering should contact Ryan Underwood at ryan.underwood@owen.vanderbilt.edu.
More information and registration details are available at http://vandyhcc.com/, and questions may be directed to vandyhcc@owen.vanderbilt.edu.