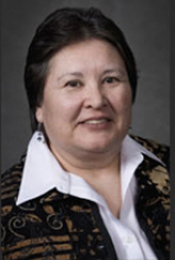 Michelene E. Pesantubbee will discuss the impact of the industrial food complex and culinary trends on Native American communities when she delivers the 2014 Howard L. Harrod Lecture Thursday, Nov. 6.
Pesantubbee, an associate professor of religious studies and American Indian Native studies at the University of Iowa, will speak at 7 p.m. in the Vanderbilt Divinity School Reading Room. Her talk, "Native American Food Culture and the Industrial Food Complex: Bringing Back a Bison-Based Diet," is free and open to the public.
The context for this year's Harrod Lecture is a resurgence of bison herds in the United States, which signals hope for healthier and stronger Native American communities, according to Pesantubbee. "However, the road to recovery for Native American communities is made difficult by the persistence of the industrial food complex," she said. "The industrial food complex affects not only Native American diet, but also culture and identity."
Pesantubbee has a strong research-based interest in Native American religious movements. She is particularly interested in how contact experiences with European and European Americans affected Native American religious practices and Native women's lives. Her published articles and book chapters examine Native American religious movements that arise in response to colonization. Her book Choctaw Women in a Chaotic World examines how contact experiences with the French and British led to significant changes in Choctaw women's lives.
The Howard L. Harrod Lecture was established to honor Harrod, the Oberlin Alumni Professor of Social Ethics and Sociology of Religion, who taught for more than 30 years at Vanderbilt. Harrod worked extensively in environmental ethics and activism and was an advocate for new ways of understanding the relationships of humans with the animal and natural worlds.
Past Harrod Lectures have been delivered by Catherine Keller, Ray Suarez, David Loy, Tom Dillehay, Mark D. Jordan, Norman K. Gottwalk, Melissa Snarr and Lewis Baldwin.
Video of Pesantubbee's lecture will be posted after the event on the Vanderbilt Divinity YouTube channel. For more information, contact Sha'Tika Brown or call (615) 936-8453.