Weintraub to speak on aliens and world religion at Dyer Observatory Nov. 6
by
Liz Entman
Oct. 31, 2014, 3:48 PM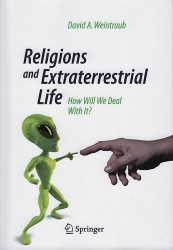 The possibility of extraterrestrial life and its impact on religion will be addressed in a free upcoming talk at Vanderbilt Dyer Observatory.
Taking place on November 6th at 7 p.m., the talk, "Exoplanets, Extraterrestrial Life, and Religion," will be given by David Weintraub, professor of astronomy and director of undergraduate studies in physics and astronomy. Recent planetary finds, predictions of future finds, and ongoing studies will be discussed, as well as the consequences of these possible future discoveries.
"If astronomers develop convincing evidence that life exists beyond the Earth, how will that discovery impact terrestrial religions and our understanding of our place in the universe?" Weintraub asks. "Are any of humanities' religions universal, or does a particular religion only make sense for earthlings? Would Roman Catholicism or Judaism or Islam or Mormonism or Buddhism work or make sense on another planet? Could a Klingon be a Southern Baptist?"
The talk is based on Weintraub's recently published book, Religions and Extraterrestrial Life: How Will We Deal with It? Afterward, there will be a book signing, and the observatory telescope will be open for viewing, weather permitting.
Weintraub's talk is hosted Vanderbilt Dyer Observatory and Parnassus Books, the publisher of Weintraub's book.
The event takes place on Thursday, November 6th at 7pm and is free and open to the public. Registration is required and can be completed online at https://www.eventbrite.com/e/david-weintraub-presents-exoplanets-extraterrestrial-life-and-religion-tickets-14025285005.
By Ben Streeter