Media Inquiries
Latest Stories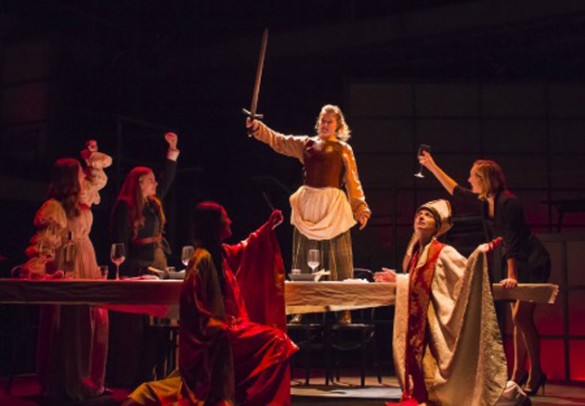 Vanderbilt University Theatre will open its second production of the season, Top Girls, on Oct. 31.
The play by Caryl Churchill, which premiered in 1982 at the Royal Court Theatre in London, remains timely three decades later. Top Girls revolves around Marlene, a career woman rapidly ascending the corporate ladder in Great Britain during the tenure of Prime Minister Margaret Thatcher. The story explores the impact of the choices that Marlene has made to achieve success.
In addition to Halloween night, performances are scheduled Nov. 1, 6, 7 and 8 at 8 p.m. in Neely Auditorium. There is also a 2 p.m. matinee on Nov. 2.
The all-women cast features performances by seven undergraduates and Courtney Mitchell, a third- year student in the Law School.
Top Girls is directed by Sean Martin, the Fred Coe Artist-in-Residence at Vanderbilt and a professional actor and director whose career has taken him throughout the United States, the United Kingdom and other European nations. "[rquote]In a political climate that is rife with talk of women's rights in the work place and reproductive freedom, it is amazing that this play is 30 years old,"[/rquote] said Martin, who trained at the London Academy of Music and Dramatic Art (LAMDA). He is co-founder of the Penfold Theatre Company in Austin, Texas, as well as FreeTrade Productions in London.
"Sean has always had a passion for working with young people and has taught at his alma mater, LAMDA, as well as The Poor School and Workhouse Theatre," said Leah Lowe, associate professor and chair of theatre at Vanderbilt. "I know that he is excited to be part of our Vanderbilt Theatre family."
To reserve tickets for Top Girls, email Laura Bodin or call (615) 322-2404.