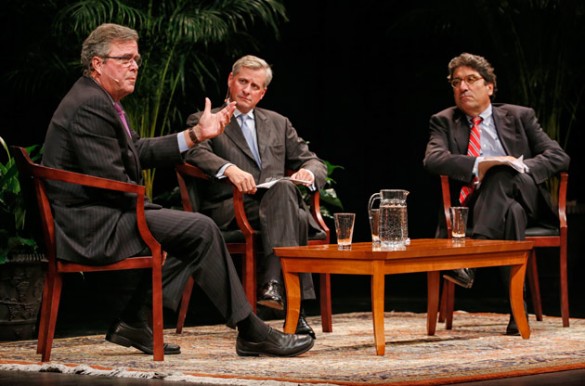 Former Florida Gov. Jeb Bush (left) joined Vanderbilt Chancellor Nicholas S. Zeppos (right) and Distinguished Visiting Professor Jon Meacham (center) for a conversation Oct. 28 in Ingram Hall.
During the talk, Bush discussed his stances on immigration and education policy and said he has set a deadline for the end of the year to decide whether he will seek the U.S. presidency in 2016.
Bush served as governor of Florida from 1999 to 2007. He is the second son of former President George H. W. Bush and the brother of former President George W. Bush.
The event was the latest installment in the Vanderbilt Chancellor's Lecture Series, which strives to connect the university and the Nashville community with intellectuals who are shaping our world.