Media Inquiries
Latest Stories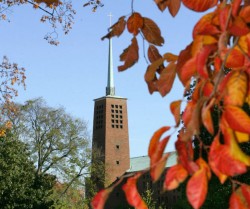 Resources within religious traditions that can ease rather than deepen racial and religious tensions will be discussed during a Vanderbilt Divinity School class open to the community.
"After Globalization: What Does Religion Have to Say about Race and Religion" will take place Nov. 1 from 9 a.m. to noon in Room 122 of the Divinity School. The Relevant Religion series is designed to highlight the relevance of religion in matters affecting daily life. Racial strife in Ferguson, Missouri, and controversy over building a mosque in Murfreesboro, Tennessee, are among recent events pegged to this conversation.
The Saturday class will be led by Herbert Marbury, associate professor of Hebrew Bible, and Graham Reside, executive director of the Cal Turner Program in Moral Leadership for the Professions and assistant professor of ethics and society.
"Since the passage of the Hart-Celler Immigration and Nationality Act of 1965, the composition of the U.S. population has undergone significant change, altering our nation's racial and religious make-up," Reside said. "[rquote]Mainline Protestantism no longer represents the center of American piety, nor does white/black define the racial dynamic in quite the same way as in years past.[/rquote] Ethnic, racial and religious pluralization brings with it both promise and challenge. Together, we will think about what it means to be 'raced and faithed' in America today."
The Relevant Religion series is made possible in part by a gift from Sylvia Kelley and Blain Kelley Jr.
Registration is $10 for the public and free for Divinity School students. For more information, contact Sha'Tika Brown or call (615) 936-8453.