Child and Family Center hosts fifth annual Elder Care Fair
Oct. 28, 2014, 2:25 PM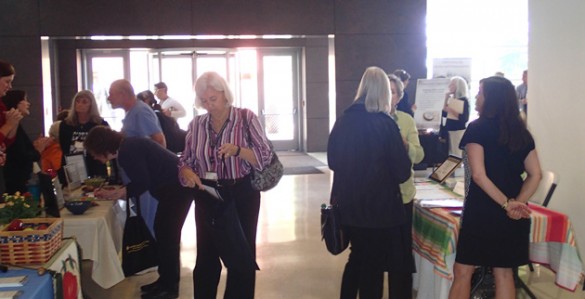 More than 50 faculty and staff members attended the Vanderbilt Child and Family Center's fifth annual Elder Care Fair on Oct. 3 in Light Hall. The fair, held each year on Vanderbilt's campus, is open to all employees and provides information and resources on caring for an aging family member.
"This year's fair was a tremendous success," said Stacy Bonner, program coordinator for the Child and Family Center. "The fair is an opportunity for anyone in the Vanderbilt community to learn about caregiving services and to gain support in their caregiving journey. This is just one of the many services we offer at the Child and Family Center."
Seventeen agencies were present at this year's fair, including Vanderbilt Home Care, Vanderbilt Pi Beta Phi, Council on Aging of Greater Nashville, Alzheimer's Association, Greater Nashville Regional Council – Area Agency on Aging and Disability, Sunny Day Program, Preferred Care at Home, Casler Senior Compass, A Grandmother's Wish, Barton House, Lea Johnson Attorney & Counselor at Law, Centennial Adult Care Center, Alive Hospice, ComForcare Home Care, Aging in Place, and the Elder Law Practice of Timothy L. Takacs.
The Child and Family Center will host four more caregiver events this year. Visit the center's website for details.
For more information, contact Stacey Bonner at (615) 936-1990 or stacey.l.bonner@vanderbilt.edu.