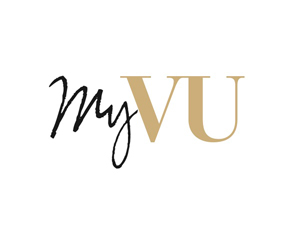 An analytics project designed to measure how faculty and staff read the MyVU Preview e-newsletter has yielded valuable information that is being used to help further increase readership and promote deeper engagement with MyVU.
The analytics project was recognized with an Award of Excellence at the 2014 Gold Pen Awards sponsored by the Nashville chapter of the International Association of Business Communicators. University News and Communications staff responsible for the project were Jan Read, Kara Furlong and Carrie Williams, with additional website support provided by Joan Brasher. "Overall, this was a well-executed analytics project to refine and improve an existing communications channel," the IABC judges commented. "Though the budget was small, the team was able to execute a thorough plan and leverage the results to increase readership."
University News and Communications produces MyVU Preview, Vanderbilt's employee e-newsletter, twice a week for its 21,000-plus faculty and staff. Before any improvements could be made, the team needed to gain a better understanding of the newsletter's reach: How many people currently opened MyVU Preview? Who was reading it, and how were they reading? And would changing up the elements of the newsletter change how readers used it?
The Internal Communications team's goal was to understand how recipients read MyVU Preview and use this information to make the newsletter more valuable and appealing for the Vanderbilt community. They were able to gather key analytics about usage patterns of four established groups—university faculty, university staff, medical center faculty and medical center staff—and to test different versions of common elements.
Among the things they learned:
Faculty and staff were more engaged than originally thought, with university faculty having the greatest engagement with MyVU, followed by medical center faculty, and university and medical center staff.
The average open rate for all the groups during the test was 26 percent, which is in line with higher education benchmarks. University faculty had the highest average open rate at 32 percent, followed closely by medical center faculty at 29 percent. The average open rate for university staff was 24 percent and 18 percent for medical center staff.
Readers browsed for relevant content instead of reading the newsletter from top to bottom. The most-read stories were focused on how faculty and staff do their jobs; the campus community; and general news items.
By testing variables, the team discovered best practice measures such as shorter subject lines, punchy headlines, straightforward opening text and earlier send times.
In addition to the analytics gathered through the e-mail test project, University News and Communications tracks readership and use of the MyVU website using Google Analytics.
Over the past 12 months, this data shows:
Content on the MyVU website received more than 1.25 million unique page views.
The majority of the MyVU traffic, approximately 26 percent, comes directly from the MyVU Preview e-mails sent twice per week. Other significant sources of traffic were links on the Vanderbilt homepage, direct traffic (users typed in the MyVU address in their browser or have it bookmarked), Facebook and Google searches.
Ninety-two percent of MyVU readers view the site on their desktops, while the remaining 8 percent is a mix of tablet and mobile users.
The team received their 2014 IABC Nashville Gold Pen Award at a ceremony Oct. 21 in Nashville.