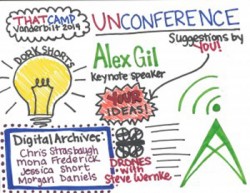 The Humanities and Technology Camp (THATCamp), described as a collaborative "unconference" that focuses on promoting and developing skills related to digital humanities in an informal manner, is scheduled for Oct. 24 and 25 at the Curb Center for Art, Enterprise and Public Policy.
Interested individuals ranging from absolute beginners to advanced coders are welcome to attend THATCamp, which is free and open to the public. THATCamp is geared especially toward scholars, librarians, graduate and undergraduate students, archivists, museum professionals, developers and programmers, K-12 teachers, administrators, managers and program funders.
"The unconference format of the program means that participants will talk, make, teach, play and listen during an event that is structured around them," said Mona Frederick, executive director of the Robert Penn Warren Center for the Humanities at Vanderbilt. "In fact, they will be the ones who decide the topics of the two-day event and can even propose a session and take charge of running it."
Participants will be able to present their own "Dork Shorts," brief presentations during which they can discuss their own upcoming projects, demonstrate a new tool or call for collaborators.
Past workshop topics have included Text Encoding Initiative (TEI)), digital archiving, video games, 3D modeling, Twitter, tools for beginners, securing funding for digital humanities projects, Omeka and Neatline.
Several workshop sessions will not be planned until Oct. 24, the first day of THATCamp. However, there will be a panel that day featuring digital archivists Chris Strasbaugh, director of the Visual Resources Center in the Department of History of Art; Jessica Short, digital materials librarian at the Tennessee State Library and Archives; Morgan Daniels, postdoctoral scholar for data curation in social science at Vanderbilt Libraries; and Frederick, who led the creation of the Who Speaks for the Negro digital archive of Robert Penn Warren's recorded interviews with 1960s civil rights leaders.
Also on Friday, Steve Wernke, associate professor of anthropology, will lead a session on drones. His research analyzes archaeological and documentary data sources in a GIS-based spatial framework to examine how community and landscape mediate relationships between households and states.
Saturday at 9:30 a.m., Alex Gill, digital scholarship coordinator for the Humanities and History Division at Columbia University Libraries, will give the keynote talk, "Neither Flat, Nor Round: On Asymmetry and the Global-ish Digital Humanities."
THATCamp 2014 is co-sponsored by the Center for Second Language Studies, Center for Teaching, Curb Center for Art, Enterprise and Public Policy, Vanderbilt Libraries, Robert Penn Warren Center for the Humanities and Vanderbilt Institute for Digital Learning.
For more information or to register, visit http://vanderbiltuniversity2014.thatcamp.org/ or email Terry Tripp.