Media Inquiries
Latest Stories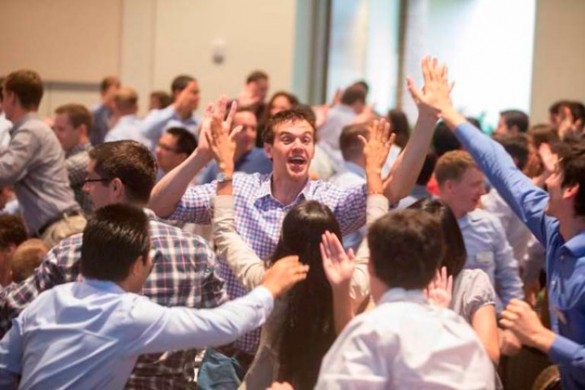 Hiring rates and salaries once again approached record levels for Vanderbilt University's MBA Class of 2014 with continued gains in technology and management consulting jobs.
Ninety-four percent of 2014 full-time MBA graduates seeking employment received a job offer 90 days after graduation; 91 percent accepted an offer in that same period.
Total compensation for graduates also edged up from the previous year, with an average base salary of $100,513. Combined bonuses and additional compensation were slightly higher in 2014 than the previous year.
"We have increased the number of recruiters coming to campus as well as the amount—and locations—of job tracks available for students in recent years," said Read McNamara, managing director of the Career Management Center and Corporate Affairs at Vanderbilt's Owen Graduate School of Management. "[rquote]We're happy to see these efforts paying off in a way that's been sustained year after year."[/rquote]
McNamara also noted that placement rates at technology companies have increased from 7 percent in recent years to 18 percent for this year's class. Similarly, consulting jobs increased to nearly a quarter of all job placements among the 2014 full-time MBA graduates.
Top hiring companies at Owen this past year included Amazon, Deloitte and Cardinal Health.
The MBA Class of 2014 saw a sharp increase in conversions from summer internships to full-time offers this year. Like their peers, rising second-year MBAs also enjoyed a 100 percent summer internship placement rate.
"The MBA job market continues to be strong and Owen has been the beneficiary of a period of robust hiring activity," McNamara said. "While we could see challenges ahead in the economy, I am more convinced than ever that Owen and the CMC are well equipped to meet them."
Owen ranked No. 5 in the Economist's 2014 Which MBA? ranking for student assessment of career service, and No. 9 for opening new career opportunities. Separately, Owen ranked No. 18 in a new survey by Poets and Quants and PayScale looking at MBA earnings over a 20-year period.