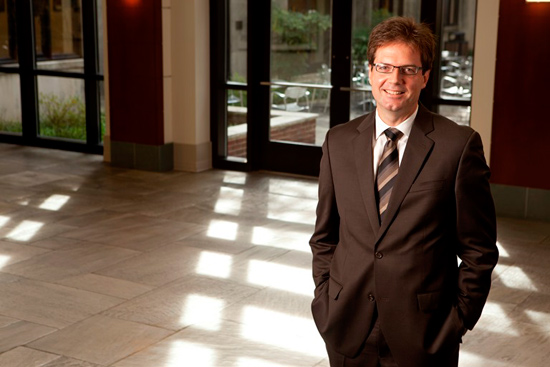 Five international experts will discuss the current state of copyright law Oct. 24 at an open forum at Vanderbilt Law School.
"Is Copyright Working for Songwriters and Composers? A Global Panel at Vanderbilt Law School" will be held from noon to 1:30 p.m. in Flynn Auditorium at the law school, located at 131 21st Ave. S.
The event is free and open to the public.It will be streamed live starting at 12:05 p.m. at https://www.youtube.com/watch?v=0v0UqmZaoes.
Daniel Gervais, professor of law and director of the Vanderbilt Intellectual Property Program, will moderate the discussion. Participating will be:
Jörg Evers, composer and president of GEMA in Germany (a performing rights organization similar to ASCAP or BMI);
Lorenzo Ferrero, composer and president of the International Council of Music Authors (founded to protect the rights of music creators);
Jean-Marie Moreau, songwriter and former vice president of SACEM in France (a performing rights organization); and
Eddie Schwartz, songwriter and president of the Music Creators of North America (founded to provide a voice for music creators in the discussions about national and international copyright law and policy).
The forum will follow the International Council of Creators of Music, which will meet Oct. 23-24 at the Loews Vanderbilt Hotel, 2100 West End Ave.