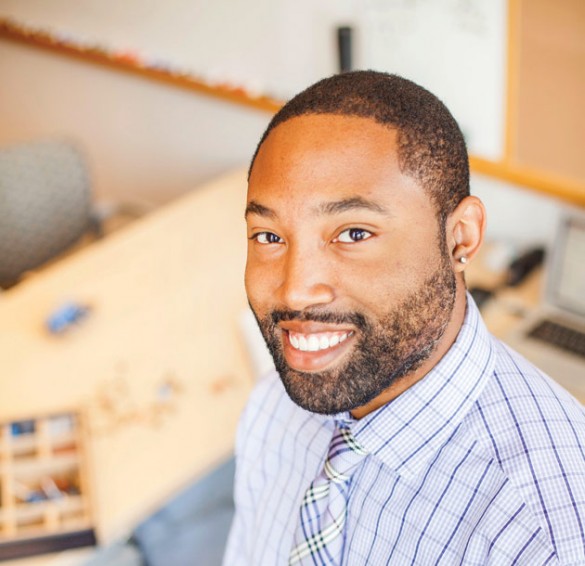 Although he is lactose-intolerant, Steven Townsend has more than a passing interest in mother's milk.
The new assistant professor of chemistry's fascination was piqued in late 2012 when he was applying for faculty positions and his wife became pregnant. He was appalled when he looked into current practices in baby feeding.
"Only in the United States do the big pharmaceutical companies dominate public opinion so thoroughly that they have convinced most Americans that infant formula is just as good as breast milk. That simply isn't the case," he said. "[rquote]Breast milk is a complete nutritional source for babies that can't be adequately replaced by any other food, including infant formula."[/rquote]
These considerations have led Townsend to make the "glycobiology" of human milk one of his research efforts. Studies have repeatedly shown that babies nursed on mother's milk are healthier as infants and have fewer illnesses later in life. That has led Townsend to apply his expertise to developing a new type of infant formula that is chemically much closer to the real thing.
The chemistry of human milk is intriguing, Townsend said. It contains hundreds of different complex sugars, called human milk oligosaccharides (HMOs), that have a number of beneficial effects, including acting as probiotics that stimulate the growth of beneficial bacteria and serving as decoys for harmful bacteria in the baby's gut.
Not only is human milk chemically complex, it also differs from woman to woman, and its chemical makeup varies over the course of breastfeeding an infant, he said. He has begun developing novel ways for synthesizing HMOs and exploring their pro- and antibiotic properties. His ultimate goal is to develop a new kind of infant formula that contains multiple HMOs that duplicate some of human milk's nutritional and protective qualities.
This is one example of Townsend's dedication to applying basic research to address problems in human health. As a postdoctoral fellow at Sloan Kettering Institute, he also developed a promising candidate for a vaccine against ovarian cancer at first remission that recently finished first-phase clinical trials.
"Normally when you are working in the lab, there's not much at risk," he said. "But it's quite different when something you made is injected into another person! I never had so many sleepless nights before in my life."
View the complete list of new university faculty for 2014-15.
View the complete list of new medical faculty for 2014.