New faculty: Sheppard examines womanist perspectives in psychoanalysis and religion
by
Ann Marie Deer Owens
Oct. 10, 2014, 9:01 AM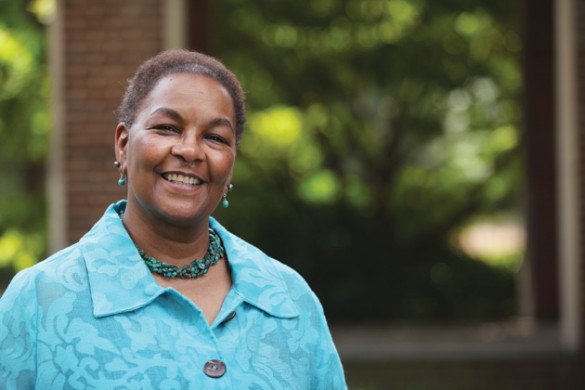 Phillis Sheppard traces her early interest in the role of religion and culture in self-understanding to growing up in a family with some powerful church women.
"I became curious about the politics in the Free Methodist congregation in which my great-grandparents were founding members," she said. "Very early on I realized that religion was a complex subject not limited to one's personal beliefs."
Sheppard's parents had converted from Protestantism to Roman Catholicism when they married. "I grew up Catholic around the time of Vatican II, and I remember my mother's aunt inviting me to visit her Free Methodist church. She said the pope had given approval for Catholics to visit a Protestant church. I thought, 'Wow—does this mean that those in other denominations listened to what the pope was saying?'
"My parents, however, were steeped in a religious view where religion extended beyond religious services," she said. "Religion made a demand on one's life to engage in the social struggles and hopes of the times, and to do that in solidarity with others, regardless of faith tradition. This exposure to diverse perspectives cultivated a desire to understand what motivated all kinds of religious behavior and choices, including my own."
Sheppard fed that desire in her theology studies, earning a master's from Colgate Rochester Divinity School and a Ph.D. from Chicago Theological Seminary. In addition, she received certifications in pastoral psychotherapy and adult psychoanalysis and maintained a clinical practice for more than 20 years, serving in pastoral roles in two urban parish settings.
Sheppard credits the underexamined work of black psychoanalysts, such as Margaret Morgan Lawrence, Hugh Butts and Kimberlyn Leary, and the work of womanist scholars—especially Vanderbilt Divinity Dean Emilie Townes—for inspiring her first book, Self, Culture and Others in Womanist Practical Theology (Palgrave Macmillan, 2011). Sheppard's publication has received critical praise for its contributions to the field.
"Womanist thought begins with the lived experiences of African American women and engaging in an analysis that understands that those experiences occur in a broader social context," she said.
Sheppard gives the example of a sportscaster who says something incredibly racist or sexist that reveals his particular view of black women, or women in general. "The story grabs the nation's attention partly because it reveals something that is already deeply embedded in the broader culture," she said. "This means that for some, the violence of the statement is shock and for others, a mirror of their own convictions. I am interested in the psychology of the individual and the society that maintains and resists these destructive mechanisms. That's why I place womanist thought, psychoanalytic theory and culture together to analyze and ultimately bring about change not only in individuals, but also our broader communities."
Sheppard joined Vanderbilt from Boston University's School of Theology. This fall, she is teaching Pastoral Theology and Care, a core course in the master of divinity program, as well as a new addition, Womanist Thought in Psychology and Religion.
View the complete list of new university faculty for 2014-15.
View the complete list of new medical faculty for 2014.