Media Inquiries
Latest Stories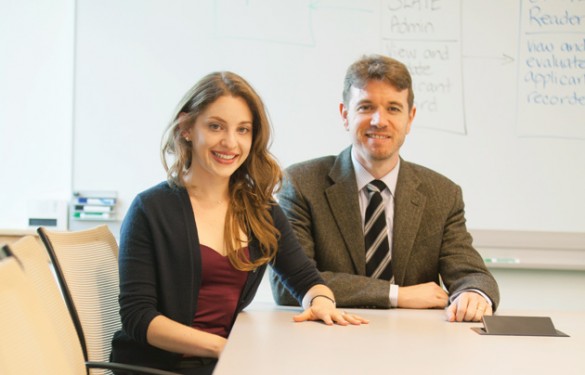 Though they didn't meet until graduate school at Stanford University, Molly and Saul Jackman both grew up in California and became fascinated with politics while very young.
"I was intrigued by thinking about politics as a very complicated game," said Saul, whose father taught political science at the University of California–Davis.
Meanwhile, the former Molly Cohn found herself so taken with the substantive questions being asked by political scientists during her first year in high school that she graduated early and entered college at 15 so she could take upper-division political science courses.
Now married, the Jackmans are the latest additions to Vanderbilt's increasingly powerful team of political scientists studying American political institutions. The department also houses the Center for the Study of Democratic Institutions.
"[rquote]We think Vanderbilt is the best place to study in our field in the country right now," Saul said.[/rquote] "It's a department that keeps growing, and lots of interesting minds keep coming in."
This fall, Molly is teaching a class on state politics and another on undergraduate research methods—"a passion of mine," she said. Saul is leading a seminar on the presidency.
Molly's work focuses on how procedural rules in legislatures influence legislative productivity and gridlock. She follows all the state legislatures in the United States as well as Congress, looking to test the effectiveness of tactics such as filibusters and blocking bills in committee.
"I'm working on a book project now that tests how procedural variance affects how many policies the states can produce and also how powerful the majority parties are in each state," Molly said. "I want to see whether the potential for a minority filibuster will stymie legislative productivity, or whether the capacity of the majority party to block bills in committees has an effect on legislative productivity."
Saul studies the presidency, particularly how the president interacts and negotiates with Congress. Recently, he's been looking at signing statements.
"Let me brag about Saul," Molly said. "He won the William H. Riker Book Award this year from the American Political Science Association." The book, The Wartime President, was published by the University of Chicago and co-written with William G. Howell and Jon C. Rogowski.
When they're not talking politics, Molly and Saul work out at a local yoga studio, and Saul cycles. Molly also volunteers at Mending Hearts, a Nashville charity that assists women battling drug and alcohol addiction, and she recently arranged for computers from Vanderbilt to be donated to the agency.
"We were both skeptical about leaving California to live anywhere else," Saul said. "But we couldn't be happier with Nashville as our new home."
View the complete list of new university faculty for 2014-15.
View the complete list of new medical faculty for 2014.