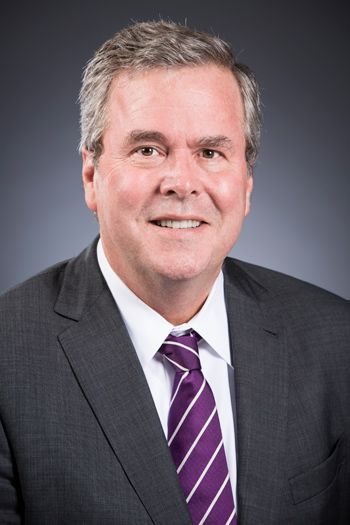 Jeb Bush, Florida's 43rd governor and a member of one of America's pre-eminent political families, will join Vanderbilt Chancellor Nicholas S. Zeppos and Distinguished Visiting Professor Jon Meacham in conversation Tuesday, Oct. 28, on the Vanderbilt University campus.
The discussion will begin at 5:30 p.m. in Ingram Hall at the Blair School of Music. A reception will precede the talk from 4:30 to 5:30 p.m. in the Ingram Hall Lobby. The event is free and open to the public, with seating for the talk limited and available on a first-come, first-seated basis.
Bush served as governor of Florida from 1999 to 2007. He is the only Republican to serve two full four-year terms as governor of the state. During his tenure, he was credited with initiating improvements in Florida's economy, environment and health care system, as well as reforming the state's education system. He is the second son of former President George H. W. Bush and the brother of former President George W. Bush.
The latter recently gave an interview to the Fox News Channel's Fox & Friends stating that he believes his younger brother wants to be president. "I think he'd be a great president," George W. Bush said. "He understands what it's like to be president, for not only the person running or serving, plus family. He's seen his dad. He's seen his brother."
"[lquote]Jeb Bush is one of the most intriguing political figures in an intriguing political time," Meacham said. "This is a great chance to take his measure up close."[/lquote]
Parking for the Oct. 28 event will be available in West Garage, located at the corner of 25th Avenue South and Children's Way, across from the Blair School.
The Vanderbilt Chancellor's Lecture Series strives to connect the university and the Nashville community with intellectuals who are shaping our world. For more information about the series, visit the Chancellor's Lecture Series website, email cls@vanderbilt.edu, call (615) 322-0885 or follow on Twitter @VUCLS.