Media Inquiries
Latest Stories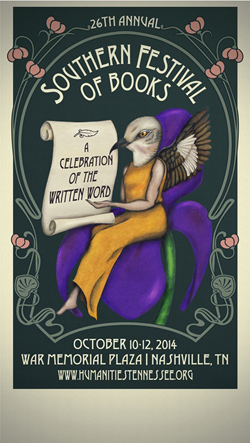 The 26th Annual Southern Festival of Books is planned for Oct. 10–12 at War Memorial Plaza and the downtown Nashville Public Library. The free event will convene approximately 200 of the region's and nation's most prominent authors for readings, panel discussions and book signings. See a complete list of participating authors for 2014.
This year's festival also will launch Standing Together in Tennessee, a yearlong programming initiative sponsored by Humanities Tennessee that will focus on the experiences of Tennessee veterans and their families. The festival will feature a special track of veteran-focused readings, discussions and performances sponsored by Nashville Public Television and the Robert Penn Warren Center for the Humanities at Vanderbilt.
Congressman Jim Cooper, a Vanderbilt adjunct professor, will participate in the opening session for Standing Together in Tennessee from noon to 1 p.m. Oct. 10 in the Nashville Public Library Auditorium. Later Friday afternoon, Vanderbilt's Michael Newton, professor of the practice of law, and Ganesh Sitaraman, assistant professor of law, will participate in the panel "The Invisible Hands of War: Politics, Legality and Tactics in Modern Conflict" from 3 to 4:30 p.m. in Legislative Plaza, Room 16
On Saturday, Oct. 11, Kenneth MacLeish, assistant professor of medicine, health and society, will serve as a panelist for "The Long Shadow of War: Veterans' Experiences on the Homefront" scheduled from 2 to 3:30 p.m. in Legislative Plaza, Room 16.
Other Vanderbilt faculty, staff, students and alumni participating in this year's festival include:
The 2014 Southern Festival of Books is set for Friday, Oct. 10, from noon to 5 p.m.; Saturday, Oct. 11, from 10 a.m. to 6 p.m.; and Sunday, Oct. 12, from noon to 5 p.m.