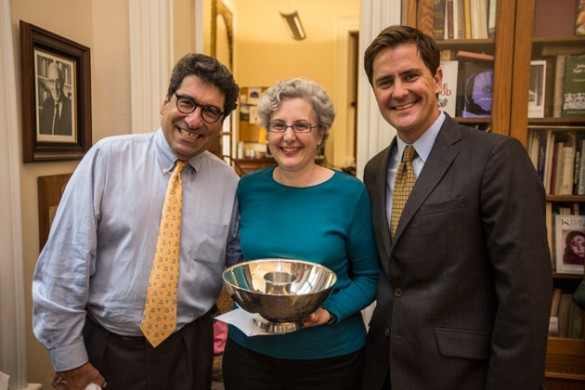 Chancellor Nicholas S. Zeppos presented the 2014 Chancellor's Cup to Associate Professor of English Teresa Goddu during a surprise ceremony Oct. 7 in Benson Hall with many of Goddu's colleagues and students looking on. The Chancellor's Cup is given annually for "the greatest contribution outside the classroom to undergraduate student-faculty relationships in the recent past."
Goddu has been a Vanderbilt faculty member since 1991 and divides her teaching responsibilities between the English department and the American Studies Program. She also has served in a variety of administrative capacities, including as acting director of the College Writing Program, director of the Undergraduate Honors Program in English and director of the Program in American Studies.
"Through Teresa's visionary leadership, American Studies increased the number of its undergraduate majors substantially, affiliated faculty were recruited from an impressive range of departments and schools, and a graduate certificate program was created," Zeppos said. "American Studies is now viewed as an intellectual home that brings together a variety of disciplines and harnesses its deep and broad resources to enhance Vanderbilt's engagement with the social issues that bind us with our wider community."
Zeppos cited the road trips program within American Studies that Goddu created, which takes students to unlikely places and provides them with educational experiences that expand their perceptions, ultimately helping them to address societal issues. Another of Goddu's initiatives, the Sustainability Project, includes faculty and students from more than 20 university departments and five schools who have collaborated to produce courses to advance understanding of environmental sustainability.
"Teresa's efforts in these endeavors have clearly enhanced the quality of interactions between faculty and students outside the classroom in the service of furthering the educational mission of the university," Zeppos said. "In addition, her students have commented on her willingness to continuously demonstrate concern for their holistic development as students and as people. They remarked on how wonderful she is at facilitating discussion as well as critical thinking, and pushing them to do their best in both writing and speaking."
Established by the Nashville Chapter of the Vanderbilt Alumni Association in 1963, the Chancellor's Cup is presented by the chapter's president during Homecoming week each fall. The award includes a cash prize of $2,500 contributed by the club, an engraved pewter cup as a permanent trophy, and one year's custody of the Tiffany and Co. silver bowl that bears the names of all past recipients.