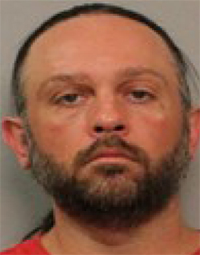 The Federal Bureau of Investigation is offering a reward of up to $5,000 for information leading to the arrest of Scott Douglas Wallace, the suspect in an incident involving a Tennessee State University student on the Vanderbilt campus Sept. 21.
Police have issued an arrest warrant for attempted aggravated kidnapping for Wallace, 38, who allegedly knocked the student to the ground as she was crossing 25th Avenue South at 2:12 a.m. at the intersection with Jess Neely Drive. According to police reports, a white male, approximately 35 to 40 years old and driving a white minivan, pulled up to the traffic light, put the van in park and exited the vehicle, leaving the driver's side door open. He ran after the woman and tackled her to the ground. She managed to break free and ran west along Jess Neely Drive. A group of students walking south on 25th Avenue South saw the incident and began shouting and running toward the intersection. The driver ran back to the van, drove left on Jess Neely Drive and right on Natchez Trace toward West End Avenue.
The witnesses tracked down an Allied Barton security officer and a Vanderbilt community service officer who radioed the Vanderbilt University Police Department, which responded.
The TSU student received abrasions to the head and elbow.
VUPD, working with Metropolitan Nashville Police and now the FBI, has released photos of Wallace and a photo of a 2001 white Chevrolet Venture with Ohio tag GES7128 registered in his name that is believed to have been used in the kidnapping attempt.
Shortly after the kidnapping attempt, VUPD put out a bulletin with the descriptions of the driver and the vehicle and notified authorities at TSU, Belmont, Lipscomb and Trevecca universities of the incident.
A security notice was issued to the Vanderbilt campus Sept. 21, and updates are being sent as the case evolves.
Anyone with information about Wallace should contact their local FBI office or the nearest American embassy or consulate. Those with information can also contact Nashville Crime Stoppers at 74-CRIME. Citizens also can send an electronic tip to Crime Stoppers by texting the word "CASH" along with their message to 274637 (CRIMES) or online at www.nashvillecrimestoppers.com. Those who contact Crime Stoppers can remain anonymous and qualify for a cash reward.