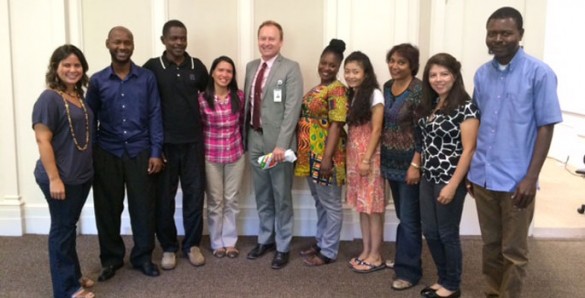 Jay Steele, chief academic officer for Metropolitan Nashville Public Schools, met with Vanderbilt's Hubert H. Humphrey Fellows to discuss The Academies of Nashville, a model in use in 12 Metro Nashville Public High Schools.
Prior to the visit, the fellows visited Hillwood High School, where they observed firsthand the small, personalized learning communities with project-based instruction and meaningful business engagement opportunities that distinguish the academies. Hillwood is home to the Academy of Health Sciences; Academy of Business and Hospitality; Academy of Art, Design and Communications; and the Hillwood Freshman Academy.
The academies concept is in sync with Steele's leadership philosophy. "I am a servant leader; I lead with the thought of kids first," Steele told the fellows. "I serve the principals in the district, the principals serve the teachers, the teachers serve the students and schools serve the community."
The Humphrey fellows, 10 educational professionals from 10 developing nations and emerging democracies, arrived at Vanderbilt Peabody College of education and human development in August. They hail from Benin, Brazil, China, El Salvador, Gambia, Pakistan, Philippines, Mauritania, Niger and South Africa and were selected for the leadership development program based on their commitment to leadership and service.
The fellows will depart Nashville in spring 2015 having created a comprehensive community enrichment program they intend to implement in their home country upon their return.
The Hubert H. Humphrey Fellowship Program is sponsored by the U.S. Department of State's Bureau of Educational and Cultural Affairs and is a U.S. government international exchange program supported by the people of the United States.
Follow Vanderbilt's cohort of Humphrey Fellows on Facebook.
For further information, please call Nancy Dickson at (615) 390-0812 or email nancy.j.dinunzio@vanderbilt.edu.