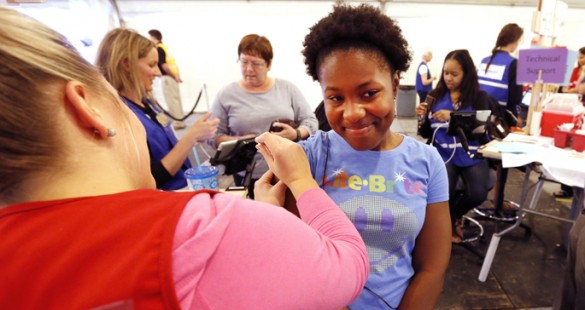 More than 13,000 faculty, staff and students received free flu shots at last week's Flulapalooza, Vanderbilt's annual mass vaccination drill that three years ago more than doubled the current Guinness World Record for the total number of vaccinations given in an eight-hour period.
The exact number at this year's 12-hour event, planned and implemented by the Occupational Health Clinic, a program under Vanderbilt's Faculty and Staff Health and Wellness program, was 13,433.
The event's dual purpose was to test Vanderbilt University Medical Center's emergency mass vaccination plan as if there really were a public health emergency requiring mass vaccination, and to help assure that Vanderbilt protects its faculty, staff, volunteers, students, and thereby its patients, from the flu.
There were 18 stations with more than 260 volunteers helping manage the participant flow, inoculate and document the shots. The average time to give and document a shot was 56 seconds.
In 2009 Melanie Swift, medical director of Occupational Health, approached Emergency Preparedness Director Pam Hoffner with the idea to test the medical center's mass vaccination plan through a mass vaccination drill.
"We did have a pandemic vaccination plan, but it had never been put to the test with the kind of volume we'd really have in a pandemic," Swift said.
Occupational Health already had experience giving flu shots in a tent. Beginning in 2005, they had erected a flu tent on Medical Center Plaza each fall. But in 2009 a pandemic of H1N1 influenza occurred, prompting Swift to engage Hoffner as well as Louise Hanson, director of the Student Health Clinic, to collaborate in the initial Flulapalooza, which took place in 2011 and broke Kaiser Permanente's world record.
The annual event also received a National Influenza Vaccine Summit award from the American Medical Association and the Centers for Disease Control and Prevention in 2012.
For more information on Flulapalooza and Vanderbilt's influenza vaccine program, visit www.occupationalhealth.vanderbilt.edu.