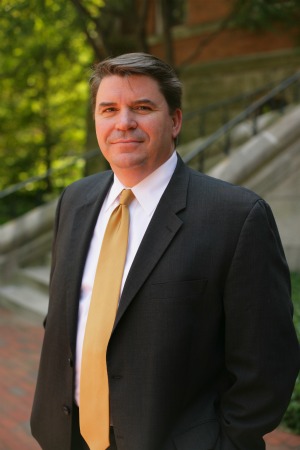 Douglas L. Christiansen, vice provost for enrollment and dean of admissions, has been reappointed dean of admissions and financial aid and named to the newly designated position of vice provost for university enrollment affairs, effective immediately.
"Vanderbilt's enrollment management success has been transformed by Doug's expertise and leadership and by his commitment to educational access and opportunity," Provost and Vice Chancellor for Academic Affairs Susan R. Wente said. "This new role will be pivotal as we integrate academic systems, policies, processes and enrollment management best practices across the university in support of 'One Vanderbilt.'"
Since Christiansen joined Vanderbilt in 2006, the entering class's quality indicators have dramatically improved. Applications have increased 142 percent — from 12,189 to 29,518 — and the admit rate has decreased from 33.9 percent to 13.1 percent. The number of enrolled students in the top 10 percent of their high school classes has increased from 78.5 percent to 91 percent, and the middle 50 percent on the SAT increased from a 1280-1470 to a 1430-1580. Underrepresented students have increased from 22.4 percent to 36.3 percent, while international students have increased from 2.5 percent to 7.1 percent. In addition, in 2009 Christiansen led the development and implementation of "Opportunity Vanderbilt," which replaces need-based loans with scholarship support.
Over the past couple of years, Christiansen and his team have reached out beyond undergraduate admissions to lead the integration of enrollment and admissions systems among multiple schools, including the Graduate School and the School of Medicine. In his newly designated role and as a member of the provost's senior leadership team, Christiansen will lead initiatives across the university to integrate academic systems that support institutional goals as envisioned in the Academic Strategic Plan and will play a key role in bringing together enrollment planning, policy and design across the university.
"I am excited about the opportunities that the future will bring, especially for Vanderbilt to become even more effective in its mission of discovery and learning by integrating our academic systems and enrollment enterprise across the institution," Christiansen said. "[lquote]The demand for a Vanderbilt education has never been greater, and I'm looking forward to working with colleagues across campus in this effort."[/lquote]
Christiansen will continue to oversee Undergraduate Admissions, Student Financial Aid and Scholarships, Enrollment Management Operational Support, the Vanderbilt Institutional Research Group (VIRG), Enrollment Management Administration and Finance, the University Registrar, the Center for Data Management, Enrollment Management for Health Sciences Education, the Chancellor's and Cornelius Vanderbilt scholarship selection programs, the POSSE scholars program and a shared partnership for Student Accounts with the controller.
Christiansen is a national trustee of the College Board and chair of its Finance Committee. He has served on the National Task Force on Admissions in the 21st Century, the Advanced Placement National Higher Education Advisory Council, the NACAC International Commission and on several sub-committees and task forces on topics including access to higher education, ethical admissions and financial aid. He led Vanderbilt as a pilot member in the College Board's Access Success Initiative.
Prior to joining Vanderbilt, Christiansen was assistant vice president for enrollment management and dean of admissions at Purdue University. He also served as associate director of student recruitment and high school services at the University of Utah, where he earned a Ph.D. in higher education administration, a master's degree in public administration and a bachelor's degree in political science. Christiansen has participated in more than 120 consultations with presidents, boards of trustees, faculty members and enrollment professionals on enrollment management and revenue-generation funding models and domestic and international recruitment strategies over the past decade. He is an active faculty member in the Department of Leadership, Policy and Organizations at Peabody College of education and human development.