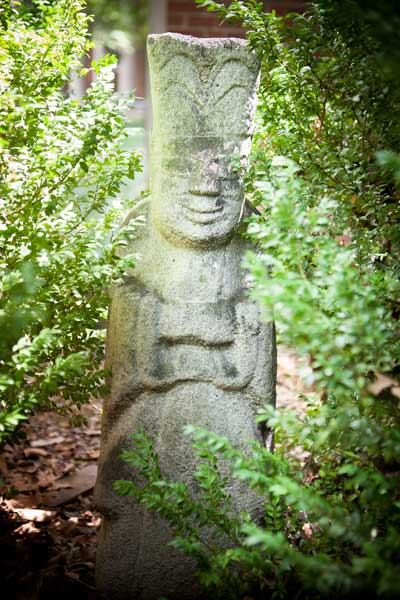 A rare Korean funerary statue that has resided for nearly 45 years outside of Payne Hall at Vanderbilt Peabody College of education and human development has been relocated to the Vanderbilt University Fine Arts Gallery in Cohen Memorial Hall, where it has begun to receive restorative care.
A reception to honor the artifact, and Vanderbilt's longstanding partnerships with Asia, will take place Thursday, Oct. 9 from 3:15 to 4 p.m. in the Cohen atrium.
The reception falls on a day of cultural significance in Korean history. The date marks the invention of Hangeul, Korea's phonetic alphabet.
Recent interest in the statue resulted in an appraisal by the Overseas Korean Cultural Heritage Foundation, which identified the work as a "Si-jah Seok" (attendant figure) from the 17th century. This type of statue would have been part of a retinue of stone figures, which are typical of Korean royal tombs.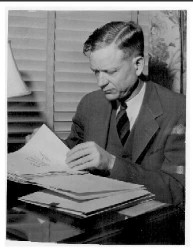 The statue was presented as a gift from the Korean government to Peabody professor and administrator Willard E. Goslin, who helped to forge a strong relationship with Korea. In the mid-1950s Goslin and a delegation of Peabody professors traveled to South Korea to help rebuild its educational system after the Korean War.
The "Multi-Year Korea Project" also brought substantial numbers of Korean educators to Peabody to earn doctoral degrees and return to their homeland to assume leadership roles there.
In 1961, Goslin, a nationally famous educator in the United States, was awarded an honorary doctorate from Seoul National University and hailed as "the father of modern education in Korea." After his death in 1969, his wife, Marion, donated the statue to Peabody, and it was installed near the front entrance of Payne Hall. It will now have a permanent home in the Vanderbilt Fine Arts Gallery.
Light refreshments will be served. All are welcome to attend.
The reception will be followed by a lecture on Chinese funerary art by Vanderbilt alumnus Fan Jeremy Zhang. Cohen Memorial Hall, is located at 1220 21st Ave. S. Parking is available in the adjacent Lot 95. Gallery hours are Monday through Friday from 11 a.m. to 4 p.m., and weekends from 1 to 5 p.m.
The conservation effort for the statue is led by the Office of the Dean of Peabody College, the Vanderbilt University Fine Arts Gallery, the Asian Studies Program, the Department of History of Art, the English Department, and the Vanderbilt Korean Alumni chapter.
For more information, call (615) 322-2831.
Media Contact: Joan Brasher, (615) 322-NEWS