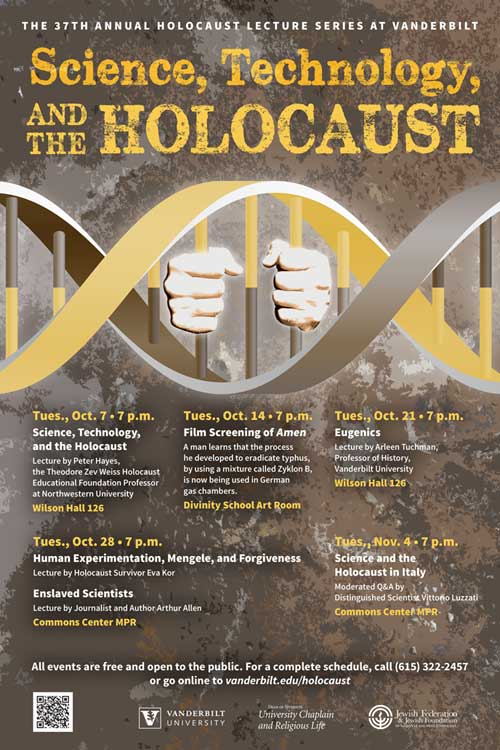 The 37th annual Holocaust Lecture Series at Vanderbilt University explores the role of science and scientists in relation to the Holocaust under the title "Science, Technology, and the Holocaust." Events are free and open to the public.
The series, sponsored by the Office of Religious Life and the Jewish Federation & Jewish Foundation, is free and open to the public.
This year's five events take place over the span of nearly a month, starting Tuesday, Oct. 7, and wrapping up Tues., Nov. 4. Events include six speakers, including Holocaust survivors, as well as a film screening.
The mission of the Holocaust Lecture Series is to make sure that the events of the Holocaust are not forgotten by present and future generations," said Michael Bess, Chancellor's Professor of History, Professor of European studies, and co-chair of the series, "Participants in the lecture series are also encouraged to reflect on the links between the forces that caused the Holocaust and the forces that shape our society in the present day."
The events are:
Science, Technology and the Holocaust
Keynote lecture by Peter Hayes, the Theodore Zev Weiss Holocaust Educational Foundation Professor at Northwestern University.
Tuesday, Oct. 7, 7 p.m., Wilson Hall 126
Film Screening of Amen
A man learns that the process he developed to eradicate typhus, by using a mixture called Zyklon B, is being used in German gas chambers.
Tuesday, Oct. 14, 7 p.m., Divinity School Art Room
Eugenics
A lecture by Arleen Tuchman, Professor of History at Vanderbilt University.
Tuesday, Oct. 21, 7 p.m., Wilson Hall 126
Human Experimentation, Mengele and Forgiveness; and Enslaved Scientists
A two-part lecture hosted by Holocaust survivor Eva Kor and journalist and author Arthur Allen, respectively.
Tuesday, Oct. 28, 7 p.m., Commons Center MPR
Science and the Holocaust in Italy
A Q&A session moderated by distinguished scientists Vittorio Luzzati.
Tuesday, Nov. 4, 7 p.m., Commons Center MPR
About the Series
The series was established in 1977 by Beverly Asbury, then University Chaplain, and is the longest running Holocaust series on an American campus. Currently, it is run by a committee of faculty, staff and students, with Bess and University Chaplain Mark Forrester acting as faculty co-chairs, and Sam Lazaroff and Lucas Wilson as student co-chairs.
Contact: Mike Zimmerman, (615) 322-2457
mike.zimmerman@vanderbilt.edu