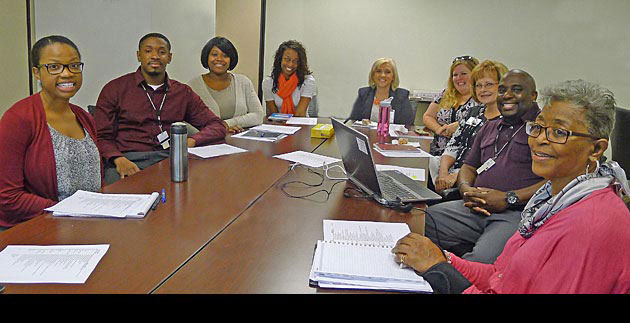 Walk into HR Express, also known as HRX, on the second floor of the 2525 West End building, and you will always be greeted with a smile and friendly customer service. Stop in to ask a question at the Commodore Concierge at Medical Center North or to buy tickets at Vanderbilt Children's Hospital, and you'll be sure to get a warm welcome. And when you call 3-7000, you will no doubt hear the pleasant voice of one of Vanderbilt's Employee Service Center reps.
In honor of customer service week, Vanderbilt Human Resources is recognizing the nine ESC reps for their dedication to assisting more than 23,000 Vanderbilt employees year-round. The primary purpose of the ESC is to provide a one-stop shop for all Vanderbilt employees' HR-related questions and to be a continuous resource for any HR issue. As ESC Operations Manager Trish Zoller points out, the ESC staff members are high-level HR experts.
"They have to know about every aspect of HR facts and policies, from benefits to systems to payroll, and they have to know when to contact the HR service delivery consultant on an issue," Zoller said. "If they don't have the answer immediately, they'll facilitate finding the answer."
Questions come into the ESC via four channels: phone, email, live chat or in person. The ESC always responds to requests within 24 hours.

Dru Newsom, Tenisha Northington and Danielle Winchester operate the call center, which handles about 300 phone calls per day. Darrell Mayberry, Whitlee Payne and Audra Roper work at HR Express. Sharon Maguire serves the Commodore Concierge at Medical Center North, and Emilie Cherry runs the window at Vanderbilt Children's Hospital. Two days per month there is also a concierge at the Vanderbilt Health One Hundred Oaks location.
"The concierge locations primarily serve walk-in requests, but the reps at those locations also answer incoming phone calls when they are not assisting a customer," Zoller explained.

Kenny Garner is the group's supervisor. "Kenny has done a fantastic job sourcing and training talented people. The ESC employees work well as a team, and Kenny does an excellent job leading them," Zoller said.

Additional services
While most service requests are from Vanderbilt employees, the ESC also receives walk-in job applicants and requests for directions. Employees can pick up paychecks, purchase discounted movie and Music City Star tickets, and buy stamps at all three locations. At Medical Center North, employees also can turn in payroll and benefits forms. The Children's Hospital location accepts W-4, tuition benefit and personal identification forms.
ESC helps employees during Open Enrollment
During Open Enrollment, phone calls to the ESC call center usually double. To prepare, the ESC participates in training to review Open Enrollment details and ensure they have access to the tool. ESC staff members can "ghost" Vanderbilt employees through the Open Enrollment process, meaning that while they can't make changes for them, they can walk them through the process.
Customer service at its best
When asked what she is looking for in hiring ESC staff, Zoller said, "Someone who has a strong customer service background and the flexibility to work in any customer service medium—on the phone, in person, via email or live chat. Above all, this is a customer service job. The nine employees we have now are exceptional in their roles."
Traci K. Nordberg, chief human resources officer, created the ESC three years ago and said the group has far exceeded her expectations.
"I want to personally thank the ESC employees for going above and beyond to serve the Vanderbilt community every day," Nordberg said. "They do an outstanding job handling a wide variety of questions and concerns while providing excellent customer service."
The ESC strives to live up to its mission statement: Committed to serving Vanderbilt's diverse and dynamic community by providing customer service excellence.
For more information, visit the Employee Service Center.
Contact: Liesel Meyer
liesel.meyer@vanderbilt.edu