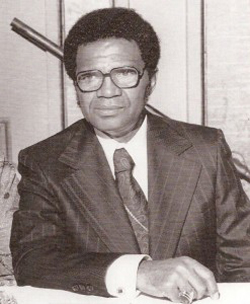 An esteemed group of panelists will reflect on Bishop Joseph A. Johnson Jr. as a scholar, a bishop and a civil rights activist, as well as his legacy at Vanderbilt, in honor of the 100th anniversary of Johnson's birth and the 60th anniversary of his graduation as Vanderbilt's first African American student.
The panel discussion, which is free and open to the public, will be held Friday, Oct. 3, from noon to 2 p.m. in the auditorium of the university's Bishop Joseph Johnson Black Cultural Center. Lunch will be served.
The panelists include:
Emilie Townes, dean of Vanderbilt Divinity School and moderator of the discussion;
Bishop Paul A.G. Stewart, retired senior bishop of Christian Methodist Episcopal Church;
Riggins R. Earl Jr., professor of ethics and theology, Interdenominational Theological Center;
Rev. Cynthia Johnson Oliver, president of the Bishop Joseph Johnson History Project and associate pastor of Annadale United Methodist Church; and
Evelyn Parker, professor of practical theology and associate dean for academic affairs at Perkins School of Theology at Southern Methodist University;
Johnson entered Vanderbilt as a special student in the School of Religion in 1953. He earned a bachelor of divinity in one year, fulfilling the requirements for the degree on April 1, 1954. Following four years of graduate study, he also earned the Ph.D. in 1958, becoming the first African American to earn a doctorate at the university.
The panel discussion is co-sponsored by the Bishop Joseph Johnson History Project and the Vanderbilt Divinity School. For additional information, contact 615-322-2524.