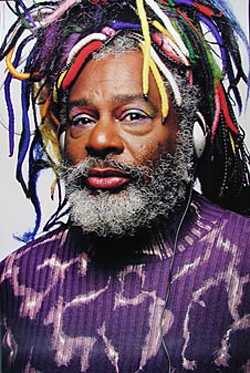 George Clinton, singer, songwriter and mastermind of the Parliament-Funkadelic collective, will be featured at a Vanderbilt University Graduate Department of Religion and Divinity School symposium Oct. 18.
Clinton, a Rock and Roll Hall of Fame inductee who continues to be a creative musical force nearly 60 years after founding The Parliament, will speak from 11 a.m. to noon in the Vanderbilt Divinity School Reading Room.
The legendary performer, whose bands revolutionized rhythm and blues music by remaking soul music into funk, will be part of "Afrofuturism in Black Theology: Race, Gender, Sexuality and the State of Black Religion in the Black Metropolis."
The symposium, which is free and open to the public, is presented by the Department of Homiletics and Liturgics in the Graduate Department of Religion and the Kelly Miller Smith Institute on Black Church Studies.
The daylong event begins with a panel discussion from 9 to 10:30 a.m. Panelists include:
Tracy Sharpley-Whiting, author of Pimps Up, Ho's Down: Hip Hop's Hold on Young Black Women and Gertrude Conaway Vanderbilt Professor of African and Diaspora Studies and French;
Victor Anderson, John Frederick Oberlin Theological School Professor of Ethics and Society;
Ytasha Womack, artist and author of Afrofuturism: The World of Black Sci Fi Culture and Fantasy;
Tamura Lomax, visiting assistant professor of gender, sexuality and women's studies at Virginia Commonwealth University who earned her doctorate from the Vanderbilt Graduate Department of Religion;
"This one-day symposium will explore critical dialogue among scholars and practitioners on the research topics of religiosity, race, gender and sexuality, which have often remained marginal within the broader discourses of black religion and in America," said Terrance Dean, doctoral student in Homiletics and Liturgics in the Graduate Department of Religion, and organizer of the symposium. "How and where do black bodies and black identity situate themselves in the future and in a post-human and post-racial world?"
After Clinton's talk, he will sign copies from noon to 12:30 p.m. of his new memoir Brothers Be, Like Yo George, Ain't That Funkin' Kinda Hard on You?
The symposium is co-sponsored by the Kelly Miller Smith Institute on Black Church Studies; Carpenter Program in Religion, Gender, and Sexuality; Cal Turner Program for Moral Leadership in the Professions; GOOD MEN; Black Seminarians; African American and Diaspora Studies and Research Center; Bishop Joseph Johnson Black Cultural Center; and Nashville chapter of the Children's Defense Fund.
For more information, email Sha'Tika Brown or call (615) 936-8453.