Media Inquiries
Latest Stories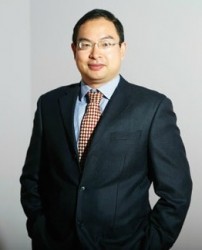 Fan Jeremy Zhang, curator of Asian art at the Ringling Museum of Art, will discuss "Chinese Funerary Art in its Cultural and Architectural Context" Oct. 9 at Vanderbilt University's Cohen Memorial Hall.
Zhang's talk, the Department of the History of Art's Alumni Lecture, is free and open to the public. It will begin at 4 p.m. in Room 203.
The lecture and accompanying gallery tour are in conjunction with the student-curated exhibition From Tomb to Temple: Unearthing Ancient China through the Vanderbilt University Art Collection The exhibition remains on display in the Fine Arts Gallery through Oct. 12.
Zhang earned a master's degree in art history from Vanderbilt in 2003. He completed his thesis, "Reading Murals in the Eastern Mausoleum: The Qidan Construction of Ethnic Identity," under the direction of Tracy Miller, associate professor of history of art at Vanderbilt.
Trained as an archaeologist in his native China, Zhang received a doctorate in art history from Brown University and worked at the Metropolitan Museum of Art, the RISD Museum of Art, and the Smith College Museum of Art. Zhang moved to Sarasota, Florida, about a year ago to develop the Ringling's new Helga Wall-Apelt Center for Asian Art, which will open in 2015.
Cohen Memorial Hall is located at 1220 21st Ave. S. Parking is available in Lot 95 outside Cohen Hall. Gallery hours are Monday through Friday from 11 a.m. to 4 p.m., and weekends from 1 to 5 p.m.
For more information, call 615-322-2831.
Fay Renardson contributed to this story.