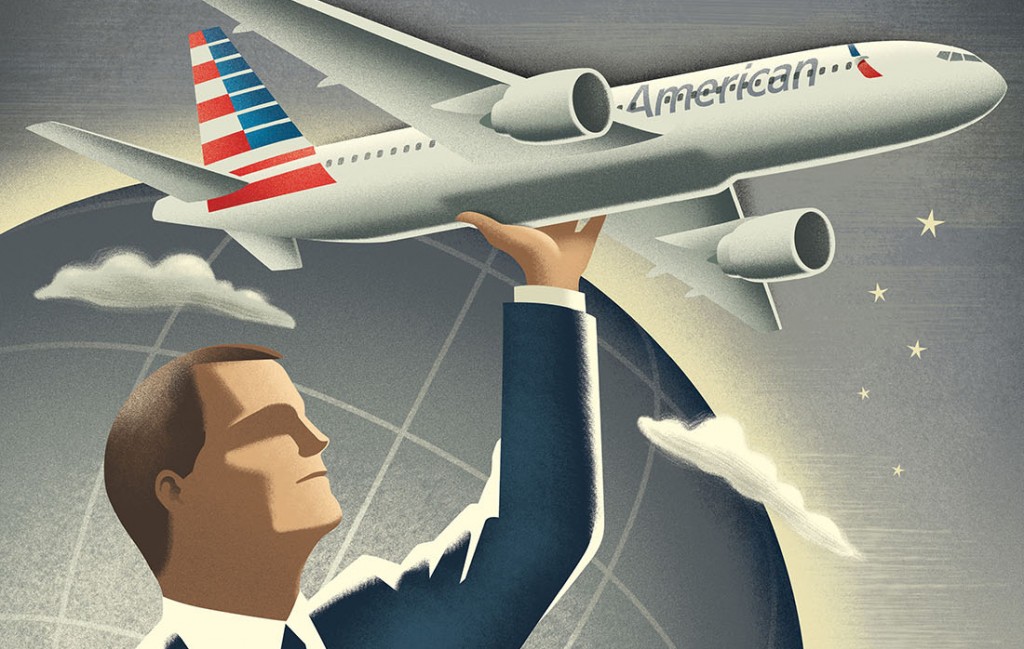 CITY OF ORIGIN
I enjoyed Seth Robertson's article "Flight Path" in the Spring 2014 issue, which chronicled Doug Parker's career culminating in his running the world's largest airline, American Airlines Group. What a great accomplishment for Mr. Parker. It is very reassuring to have a Vanderbilt graduate [MBA'86] in such an important position.
I noted one small error in the article—although it was a very large error to those of us who live in St. Petersburg, Florida! It is true that 100 years ago, pilot Tony Jannus made history by flying the first commercially scheduled airline across Tampa Bay. However, the flight originated in St. Petersburg and ended in Tampa (not the other way around), giving St. Petersburg the legitimate claim of being the location where commercially scheduled aviation originated. The St. Petersburg Museum of History recently celebrated this 100th anniversary (Jan. 1) and has a replica of the plane flown by Jannus hanging in its Flight Gallery. If you are ever in St. Petersburg, please come by the history museum (spmoh.org) to see the historic replica and hear more about that historic flight.
Thank you for including the Jannus flight in your article; it made for a very nice comparison as to what commercial aviation has become today.
SUSAN HOUGH HENRY, BS'78, MS'79, St. Petersburg, Florida
---
MORE SPORTS, PLEASE
I enjoy the magazine, but frankly would like more on sports. After all, Vanderbilt's baseball team just won the national championship; Vanderbilt's football coach James Franklin just went to Penn State; and Kevin Stallings, formerly at Illinois State University, has done a good job with basketball.
I'd also like to see Vanderbilt Magazine remember coaches Red Sanders [football] and Bob Polk [basketball] from Vanderbilt's past.
BILL SHEA, BA'52, Normal, Illinois
---
I just read the fantastic [spring] issue and particularly enjoyed the story about Doug Parker of American Airlines ["Flight Path"]. It set me thinking about other alumni who've gained some recognized notoriety in their disciplines. How about a story on one (or more) mayors of major metropolitan centers? I'll suggest one: Greg Fischer [BA'80], mayor of Louisville, Kentucky. Fischer has done a lot to move his city forward since being elected almost three years ago. You may know about other mayors with Vandy ties who are held with equal esteem.
Another story idea that simply must not be missed: The Vandy baseball team has just won the College World Series in Omaha. If I heard it correctly, it's the first time any Vanderbilt athletic team has become a national champion of its sport. So often baseball gets short shrift. Don't let this get swept under the carpet. Surely, there is a human-interest angle there that could work itself into a great story that would make alums beam with pride when they read it.
Thanks for the good work you invariably do. Can any alumni publication hold a candle to ours?
JIM COX, BA'64, Louisville, Kentucky
---
EDITOR'S NOTE: Never fear, baseball lovers. In addition to our photo essay, you'll find other stories of interest here and here, or online at social.vanderbilt.edu. For the record, the Vanderbilt women's bowling team captured the university's first-ever team national championship in 2007.
We love the suggestion of a Vanderbilt mayors story, which would, of course, include Nashville's current and immediate past mayors: Karl Dean, JD'81, and Bill Purcell, JD'79. Readers, if your town's mayor is a Vanderbilt alumnus, please let us know.
---
PROUD PARENT
Thanks for my Spring 2014 issue. As always, the articles were terrific, the one about the Aspirnaut program ["Where Aspirnauts Soar"] being particularly interesting. My real surprise was when I turned to the back cover and spotted my son, Eric Turner [BA'14], in the photo from graduation May 9. That was a wonderful day and a wonderful picture by John Russell.
JAMES TURNER, Huntsville, Alabama
---
MEDICAL MARIJUANA
As an advocate for legal, regulated marijuana, I was interested in reading about the university's research on marijuana's ability to relieve anxiety [Spring 2014, Research, "Waiting to Exhale"]. The Koozer–Kuhn Medical Cannabis Act, introduced this year in the Tennessee General Assembly, was named in part for my late wife, Jeanne Elmore Kuhn [BA'66]. Marijuana was the only medication that relieved the debilitating side effects of chemotherapy she endured while battling the cancer that took her life.
While the Medical Cannabis Act did not survive the session, the legislature passed a cannabidiol (CBD) bill that authorizes Tennessee Technological University to grow medical marijuana and Vanderbilt University Medical Center to conduct studies on the ability of CBD to treat intractable childhood seizures. Dr. Jesus Eric Piña-Garza, professor of pediatrics and director of the pediatric epilepsy program at Monroe Carell Jr. Children's Hospital at Vanderbilt, played an important role in the bill's success.
Unfortunately, the National Institute on Drug Abuse and the U.S. Drug Enforcement Administration have a long history of blocking research on potential medical benefits of marijuana, including its anticancer properties—but it appears that growing public demand will force a change in policy.
PAUL KUHN, BA'65, Nashville
---
We welcome your letters in response to contents of the magazine. We reserve the right to edit for length, style and clarity. Mail signed letters to GayNelle Doll, editor, Vanderbilt Magazine, PMB 357737, 2301 Vanderbilt Place, Nashville, TN 37235-7737; or send us an email.
---