By Nirav Parikh, BS'04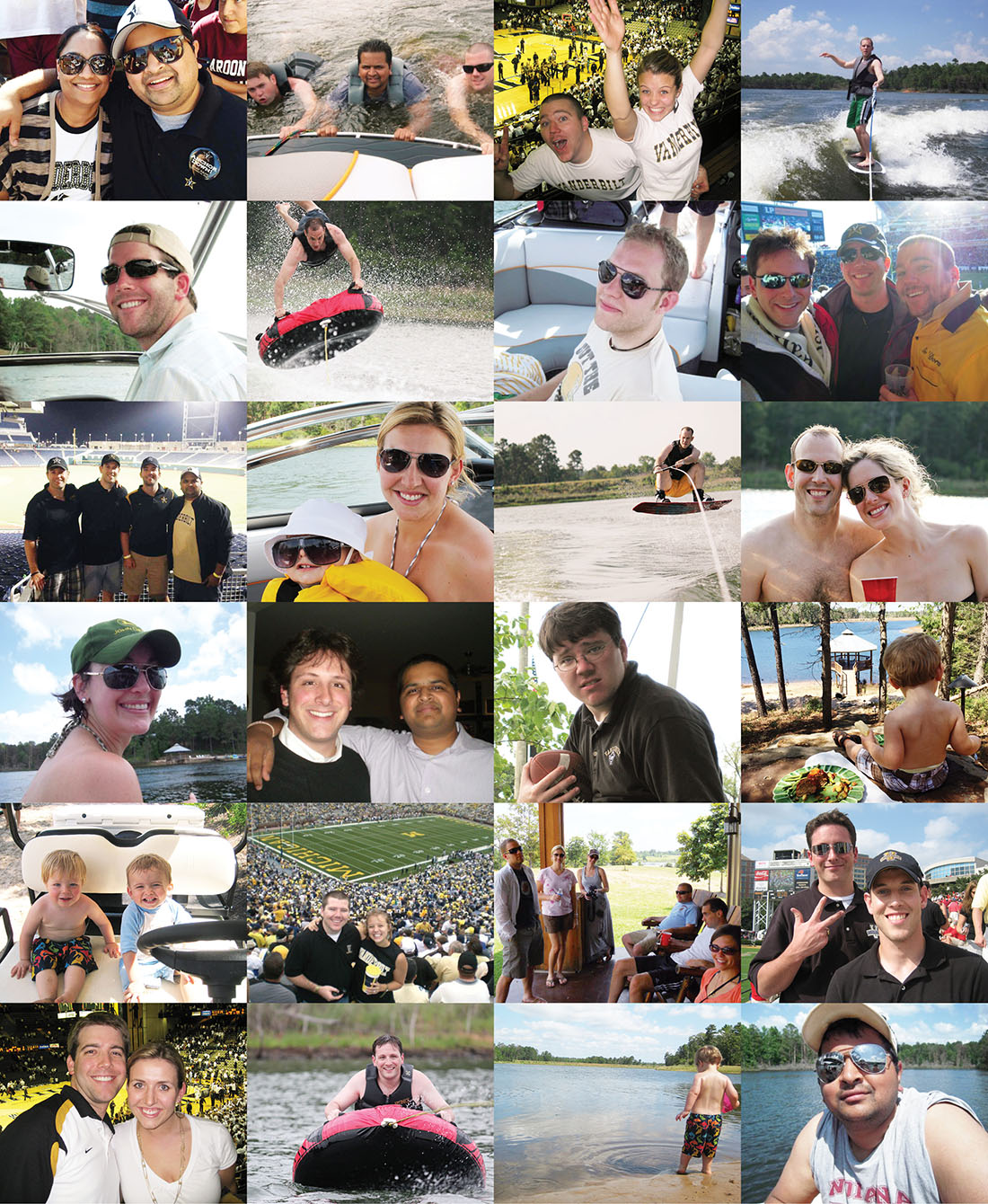 As the packing boxes mounted during the waning days of my senior year at Vanderbilt, my best friend and roommate, Frank, walked into my room and looked at me with an air of resignation. "You realize this will probably be the last few months we all remain friends," he announced.
"I mean, you and I will probably stay in touch through law school, and there will be the weddings—but slowly people will begin to lose contact as their lives take them on different paths," Frank continued matter-of-factly. "That's just what happens when you graduate."
That was a little over 10 years ago. At times I wonder how my college experience and subsequent life experiences would have changed had I not been assigned to that room on Lupton 7 in the fall of 2000. It was on that floor that I found brothers I never knew I had. I do not believe anything is extraordinary about the bond we have, but I do take pause in appreciating the serendipity that first connected us all.
It's hard to imagine a more eclectic group of friends forming at a Southern campus: Frank Victor-McCawley [BE'04], an Oklahoma high school football player who had spent part of his childhood surrounded by the homeless of Chicago. Matt Wollenburg ['04], a New York City kid from the heart of Manhattan. Cole Pate [BS'04], the first kid from his Texas family to go to college. Joe Wallace [BE'04], a small-town Alabama genius. Jonathan Pellish [BS'04, MS'06, PhD'08], a rocket-scientist-to-be from the hills of West Virginia. Jason Hirshburg [BE'04], an outdoorsy Oklahoman who loved school. Ben Purvis [BE'04], a Rocky Mountain member of an already established Vanderbilt family. And me—a first-generation American from an Indian family who had never left the comforts of his culture or the borders of New Jersey.
If such a group ever were to exist, it would be at Vanderbilt. And somehow, in the 10 years since graduation, not a single friend has lost contact. Those rambunctious boys found even more balance through the years in new friends and spouses: Megan O'Connell Pate [BA'04]; Sarah Fulton Hutchins [BA'04]; Amanda Jacobs Wallace [BA'04]; Megan Merwin Wollenburg [BS'04]; Komal Patel-Parikh; Daniela Grob; Geneva Hirshburg; Julia Apte Purvis; Claire Mahoney and Mark Hutchins. In fact, since our freshman year, as the group has grown, the connection has only grown richer.
During our most recent gathering earlier this year, when I asked these friends why they thought we all had stayed connected for so long, we couldn't verbalize one definitive reason. Everyone agreed that the depth of our connection was unique, but one fixed reason as to why it has survived seemed to elude us.
What was clear was how it has survived. Maybe we never needed a reason to keep connected—just a place and time to keep it consistent.
Each year there is still merriment and there are still some questionable decisions made, but they are complemented by richer conversations surrounding our ambitions, families and goals.
That's how the house on Lake Pee Paw in Flo, Texas, became so important. The use of the lake house—a generous gift from the Pate family—and their hospitality have been integral in allowing the group a place to reconnect. While quite a distance from the tree-lined streets of Nashville's West End area, the lake house has become inextricably tied to Vanderbilt and has lodged 10 years of intimate alumni reunions and celebrations.
The house began its relationship with our group as a quick summer trip between Vanderbilt school years and found its permanent place in our hearts during senior week in May 2004 as the last hurrah before entering the real world. Even then, it was simply one of many trips we would make each year to see each other.
Very soon after graduating, it became clear that trying to stay connected through multiple trips would be difficult and could cause some of us to cancel or not show up. If we wanted to keep the group connected and engaged, we needed a less complicated way to do it.
In an effort to simplify things, our consensus was that a dedicated time and place was better than trying to plan a new trip every year. We agreed that no matter the year, every Memorial Day weekend we would gather at the lake house. It was clear that the house and that weekend would become our landmark to look forward to every year.
As my friends repeatedly remind me, the only hiccup in this plan was the year I got married and chose the weekend before Memorial Day, making it impossible to do both. I have yet to live down this transgression.
The house started out as a place to unwind and let loose. As our lives changed, so did the memories formed in the house. In addition to games, revelry, and slightly dangerous tubing incidents, the house saw family dinners, marriage proposals, baby announcements and baby showers. During our most recent Memorial Day weekend, three of the couples—including my wife, Komal, and I—announced that we are all expecting babies at the same time.
Each year there is still merriment and there are still some questionable decisions made, but they are complemented by richer conversations surrounding our ambitions, families and goals. As we grow in our lives, so do the weekends in the depth of our interactions.
It's almost guaranteed that during the dregs of winter, someone will send out a brief email reminding everyone that May is just around the corner. Those emails and the prospect of the lake house seem to invigorate and enliven the group, no matter the circumstances.
Who knows what that house and weekend will have in store for us during the next 10 years? What we do know is that the weekend will continue to be our anchor, helping to slow us down and enjoy each other. Even now, as each year brings new members to our group—the next generation of Vanderbilt fans—those additions do not dilute our annual get-together. Instead, the weekend gives us that place to celebrate wonderful moments of the past year with those who will forever be part of our lives.
As we have traversed these past 10 years after college, each relationship plays a part in our lives, whether as an active participant or as a meaningful memory. Through these interactions we may find a few people who link themselves intricately to our lives—those rare "lifelong friends."
When I consider how few and far between such relationships can be, I am grateful for the bounty I have been afforded and am thankful to Vanderbilt as the place where the seeds were planted. It simply took a little lake house in Texas for them to take root and blossom.
---
After graduating from Vanderbilt, Nirav Parikh earned a law degree from Indiana University and is an associate with Deloitte Transactions and Business Analytics LLP in Houston. He is serving on Vanderbilt's 10-Year Reunion Committee for the Class of 2004 and volunteers with the Commodore Recruitment Programs (CoRPs).
---