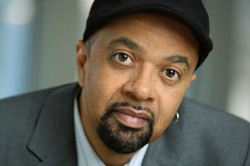 James McBride, bestselling author, musician and screenwriter, will deliver the 2014 Harry C. Howard Jr. Lecture Thursday, Oct. 2, at Vanderbilt University's Sarratt Cinema.
McBride's talk, "The Good Lord Bird: Faith and American Slavery," will begin at 4:10 p.m. In addition to the lecture, McBride's Good Lord Bird Band will perform 19th-century U.S. gospel music. A reception and book signing will follow the event.
McBride, a native New Yorker, grew up in Brooklyn and graduated from public schools. He earned a degree in music composition from the Oberlin Conservatory of Music and a master's degree in journalism from Columbia University. McBride worked for The Boston Globe, People magazine and The Washington Post. At age 30, he left his features position at the Post to focus on a music career in New York. He wrote songs for Anita Baker and Grover Washington Jr., among other artists, and toured as a saxophonist sideman with jazz legend Jimmy Scott. His musical awards have included the ASCAP Richard Rogers Horizon Award.
In 1997, his memoir The Color of Water: A Black Man's Tribute to His White Mother was published by Riverhead. It stayed on The New York Times' bestseller list for more than two years. Miracle at St. Anna, McBride's first fictional novel, was published in 2003 and translated into a major motion picture directed by Spike Lee. It was released by Disney/Touchstone in 2008. McBride wrote the script for that film as well as Lee's Red Hook Summer.
McBride received the 2013 National Book Award for Fiction for The Good Lord Bird, a fictionalized account of a young boy born into slavery who later becomes involved with John Brown's anti-slavery crusade.
The Harry C. Howard Jr. Lecture Series was established in 1994 through the endowment of Mr. and Mrs. Thomas E. Nash Jr. and Mr. and Mrs. George D. Renfro, all of Asheville, North Carolina. The lecture honors Harry C. Howard Jr., who earned his bachelor's degree at Vanderbilt in 1951, and allows the Robert Penn Warren Center for the Humanities at Vanderbilt to bring an outstanding scholar to the university annually to deliver a lecture on a significant topic in the humanities.
For more information on the lecture, which is free and open to the public, email Terry Tripp at the Warren Center or call (615) 343-6060.