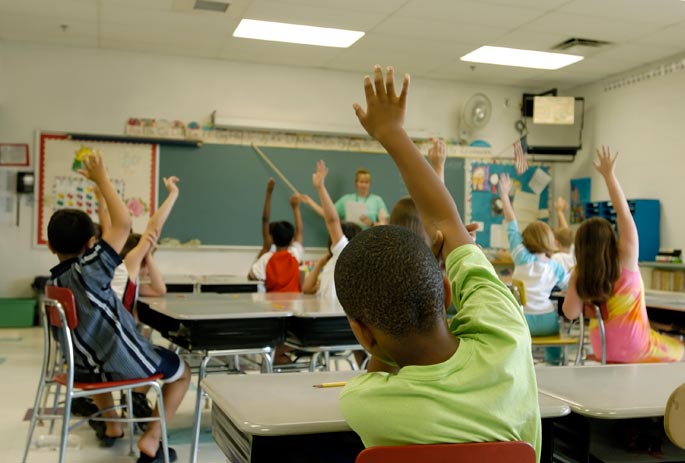 Support for Common Core has declined among Tennessee teachers over the past year, according to the results of a new Vanderbilt study.
In the 2014 First to the Top survey, which compiled responses from more than 27,000 Tennessee public school teachers and administrators on a variety of policy initiatives, a majority of teachers indicated they were opposed to the Common Core State Standards. This is in sharp contrast to the 2013 survey, which found that Tennessee teachers were mostly in favor of Common Core and felt that implementation was going well.
The latest data, which were collected at the end of the 2013-14 school year, indicate that just 39 percent of respondents believed that teaching to the standards will improve student learning, as opposed to 60 percent last year.
Why the dramatic turnaround? There isn't one overriding explanation—several factors seem to be in play, according to Dale Ballou, director of the Tennessee Consortium on Research, Evaluation and Development at Vanderbilt's Peabody College of education and human development.
"Many teachers feel the training and assistance they have received has been insufficient or ineffective," said Ballou, associate professor of public policy and education at Peabody and lead investigator of the study. "Teachers' concerns about the impact of the Common Core on their evaluations also appear to be partly responsible."
Teachers also seem to be troubled by the difficulty of the new standards.
"Teachers in the upper grades in particular believe the transition to the Common Core is too abrupt; that they are being asked to meet new and more challenging standards when their students have not been taught to those standards in the past," Ballou said. "These are contributing factors, but they are only part of the story. Opposition to the Common Core is broadly diffused."
Because opposition is not concentrated among teachers in language arts and mathematics—the subjects most affected by the new standards—it does not appear that the shift in teachers' attitudes is simply a matter of having tried to teach to the Common Core and concluding that the new standards aren't workable.
"It remains to be seen whether these attitudes will improve as teachers become more familiar and comfortable with the new standards, or whether more fundamental changes will be required to accommodate some of the concerns expressed in this survey," Ballou said.
Read the full study results here.
The Tennessee Consortium on Research, Evaluation and Development is housed at Vanderbilt Peabody College of education and human development, and funded through the State of Tennessee's Race to the Top grant.