Media Inquiries
Latest Stories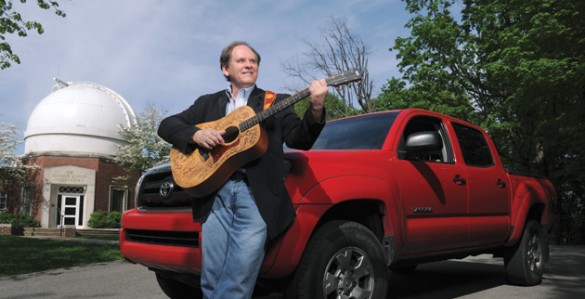 Rocky Alvey, director of Vanderbilt's Dyer Observatory, will be honored Friday with a 2014 Partnership Award by the Friends of Radnor Lake.
Since 2010, Dyer Observatory has partnered with its neighbor, Radnor Lake State Natural Area, on a variety of nature and science programming, like hikes and wildlife presentations.
One of the most successful partnership events took place during the Transit of Venus, when hundreds of people gathered at Dyer to watch the planet Venus cross the face of the sun. Radnor Lake officials provided additional activities, including a bird of prey demonstration.
"Radnor Lake staff contribute to many of our public activities by bringing indigenous hawks, owls and various reptiles, along with their vast knowledge of the natural area environment," said Alvey. "[rquote]I feel very fortunate that we have Radnor Lake State Natural Area as our entire boundary neighbor.[/rquote] The relationship we have developed over the years has been beneficial not only to our public activities, but also to the safety and security of the property. We couldn't ask for better or more valuable partner relationships than those we have with Park Manager Steve Ward, his staff, the Friends of Radnor Lake."