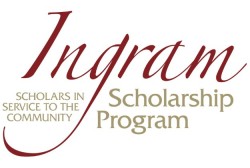 A new full-length documentary marking the 20th anniversary of the Ingram Scholarship Program at Vanderbilt University will be screened at 10 a.m. Oct. 11 in Sarratt Cinema.
The Ingram Scholarship Program: Twenty Years documents the program's origins, history and progress from its founding in 1994 to the present. Filming on the project began in April 2012 and was completed this spring.
The Ingram Scholarship Program sponsors students who demonstrate a willingness and ability to combine a successful business or professional career with a lifelong commitment to finding solutions to critical societal problems. It is distinguished by the requirement that scholarship recipients not only volunteer for community service, but also design and implement projects that address significant community needs.
"The documentary is an effort to capture the growth and development of the program during its first 20 years, to show what our alumni are doing, and to celebrate the program," said Marshall Eakin, faculty director. "It conveys the mission of the program since its creation, how Ingram Scholars are selected, a year in the life of the program and the summer projects students carry out, as well as profiles some of our alumni and the work they are doing today."
After the initial public screening on Oct. 11, the documentary will be put on the Ingram Scholarship Program website along with shorter pieces about the selection process and scholars' summer projects.
Contact: Bryn Sierra , (615) 322-8586
bryn.sierra@vanderbilt.edu